Premier League Fantasy Team Preview: Tottenham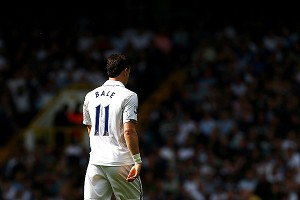 Jan Kruger/Getty ImagesWith the season less than two weeks away, EPL fantasy owners don't know if Gareth Bale will be in the league.
ESPN FC fantasy picks expert Sir John continues his Premier League season preview with a look at the teams, examining fantasy players for Tottenham who may help secure a Champions League spot in their run for the Premier League title. Go to the ESPN FC EPL fantasy page to join the game.

Last season: 21-9-8
Goals: 66 scored, 46 conceded
Finish: Fifth

Gareth Bale's future is the focus of all things media for Spurs and hardly conducive for team unity or success. Bale wants out, ownership wants him in and seemingly no amount of money on the table (100 million ridiculous euros?) will get owner Daniel Levy to part with the Welshman who scored 21 goals in 34 PL games and was the top fantasy point producer for midfielders. Bale has a 9.6 fantasy value but has had injury issues this summer and over the years.

Two million fantasy pounds less (7.6) is 28-year-old new transfer Paulinho, a Brazilian midfielder from Corinthians, but hardly a goal-scoring machine. He seems in the 10-15-goal range.


A bigger signing was the acquisition of forward Roberto Soldado who scored 24 goals in 35 games for Valencia. The Spanish international stands less than 5-foot-11 and weighs less than 170 pounds. He is 28 and brings a classy upgrade to a struggling forward line at Spurs. His fantasy value is not yet listed.

Coming in this week and subject to passing a medical is defensive midfielder Etienne Capous. His French team accepted a bid from Cardiff earlier this summer, but the 25-year-old did not want to move there.

Holdovers from last year are not exactly table scraps, but essentially leftovers. Jermain Defoe (6.7) was the 11th-best fantasy forward point-producer, but he disappeared in the second half of the season. A major disappointment was Emmanuel Adebayor (6.2) who transferred permanently to Spurs from Manchester City and could only score five goals in 25 games.

Further upgrades in the forward line will depend on what happens to Bale. There is a glut of Spurs' midfielders on the fantasy list with Aaron Lennon (7.7) the next-highest fantasy point guy behind Bale. Clint Dempsey is gone but never duplicated his glory days at Fulham and was not a favorite of AVB. Scott Parker (5.9) is an awful fantasy player, as is Lewis Holtby (overpriced at 6.4), and Gylfi Sigurdsson (6.5) never duplicated what he did at Swansea. Mousa Dembele (7.2) seems to be bound in defensive chains by AVB and is rarely turned loose, so why did they bring in Capous? Sandro (5.9), Tom Huddlestone (5.7), Jake Livermore (5.5), Thomas Carroll (5.1), and Andros Townsend (5.5) are all just guys on a roster when it comes to fantasy selection.

Tottenham brought in an excellent goalkeeper in Hugo Lloris (6.8) who displaced veteran Brad Friedel (4.5). Lloris, 28, had 51 saves in 27 games.

Still to be fantasy listed is Twente winger Nacer Chadli, a 23-year-old Belgian international who can play on either flank.

Next: Everton