Premier League Fantasy Team Preview: Arsenal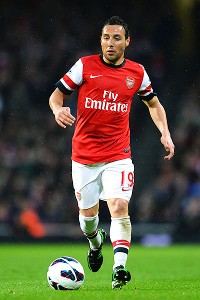 Shaun Botterill/Getty ImagesArsenal midfielder Santi Cazorla was one of the top fantasy point-producers last season.
ESPN FC fantasy picks expert Sir John Culea continues his Premier League season preview with a look at the teams, examining Arsenal's fantasy players who may help the Gunners challenge for the Premier League title. Go to the ESPN FC EPL fantasy page to join the game.

Last season: 21-10-7

Goals: 72 scored, 37 conceded

Finish: Fourth

Arsenal had three position players in last season's top five fantasy point-producers for all positions -- defender Per Mertesacker (7.0 fantasy value) and midfielders Santi Cazorla (9.2) and Theo Walcott (8.3) -- with Lukas Podolski (7.7) the 6th forward -- yet Arsene Wenger's Gunners were hard-pressed to get the remaining Champions League spot.


Liverpool's suspended Luis Suarez (9.3) has been linked with Arsenal, but why would you want to pay a huge transfer fee to bring in a ticking time bomb who will miss the season's first six games? Podolski had a slow start but finished with 11 goals and nine assists. Close behind was Olivier Giroud (7.4) with 11 goals and three assists although he seemed to miss at least one sitter every game. The only new player of note is U-20 international Yaya Sanogo from France. The 20-year-old has already had many injuries in his brief career and never has played more than five consecutive matches. He carries a 5.8 value and not worth gambling on as a third striker.

Marouane Chamakh (6.1), Gervinho (6.4), and Nicklas Bendtner (6.1) are worthless fantasy picks and likely to be transferred.

Arsenal excels in midfield with Cazorla and Walcott. Mikel Arteta (7.6) gives penalty goals, but few assists (3) and incredibly only took 19 shots in 34 PL games. Two players who continue to wear "Potential" on their jersey remain on the fantasy fringes. Jack Wilshere, over-hyped and overpriced (7.5) and Alex Oxlade-Chamberlain (6.4) are bad fantasy picks. Aaron Ramsey (6.6), Tomas Rosicky (6.1), Emmanuel Frimpong (5.5), and the brittle Abou Diaby (5.9) toil in anonymity.

Arsenal has rid itself (or at least loaned out) several players who took up roster space and will not miss defender Nacho Monreal, who won't start the season due to a back injury and carries a bloated 6.5 value.


Defense at Arsenal improved last season with the maturity of Wojciech Szczesny (7.1) in goal. He had ten clean sheets in 25 games.

Mertesacker took a while to adapt to the PL league but ended his debut season as the fourth highest fantasy defender. The 6-foot-6 German, 28, had 153 points in 34 games and scored three goals. Laurent Koscielny (6.7) signed a new contract and came on strong in the second half. Barcary Sagna (6.7) is useful to the team but not to fantasy managers as he took only three shots in 25 games. Kieran Gibbs (6.1) and Carl Jenkinson (6.0) are a bit more offensive-minded but not good fantasy players. Former captain and Belgian Thomas Vermaelen (6.4) had a disappointing 29 games last season and a back injury threatens to sideline him to start the year.

Next: Tottenham