More New Fantasy Player Values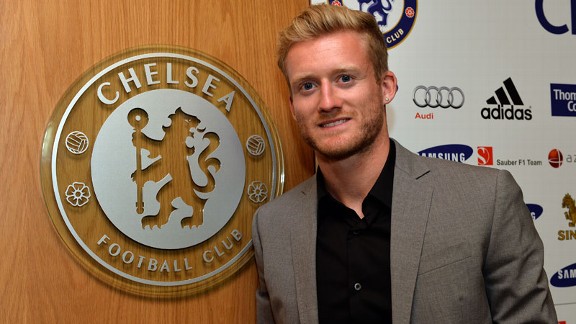 AssociatedWill Andre Schurrle be a bargain buy for ESPNFC fantasy managers?
In a previous story I looked at eight players who will have their debut Premier League season in 2013. Here are comments on nine more and their fantasy values:

Get in on the excitement of this season's Premier League season and compete in ESPN's Premier Fantasy competition. Click here to join.

Andre Schurrle, Chelsea, Midfielder, 7.0 value

Described as a forward on many web sites, Schurrle is listed as a midfielder on ESPNFC's fantasy game. Regardless, his playing time is dubious with the glut of quality players Jose Mourinho has to pick from. The 22-year-old, six-foot German played at Bayer Leverkusen and scored 11 goals and seven assists in 34 league games. His fantasy value is too high to be a bench fantasy midfielder.

Fernandinho, Manchester City, Midfielder, 7.0 value

The 28-year-old Brazilian played impressively for Shakhtar Donetsk, but what does he bring to the Etihad that Yaya Toure doesn't? Essentially, a holding midfielder, Fernandinho scored two league goals last season and four the year before. He had only 31 in 184 league appearances.

Midfielders make or break your fantasy success. Fernandinho seems a future member of the "Dreaded 3" club (averaging three fantasy points a game).

Nicolas Anelka, WBA, Forward, 5.5 value

"Le Sulk" returns to model his sixth PL kit. The 34-year-old Frenchman had his biggest scoring season with Chelsea in 2008 (19 goals in 33 games) but went through a bad spell in China, scoring just three goals in 22 appearances before being loaned out. He should get a fair amount of playing time for the Baggies and is a good third forward fantasy choice on a team looking to replace the 17 goals of Romelu Lukaku.

Jozy Altidore, Sunderland, Forward, 5.5 value

A better third forward fantasy choice is the 23-year-old American who scored 23 goals in 21 games in the Dutch league. This is not Altidore's first foray into the PL but it has been four years since he had a brief loan spell at Hull. With Steven Fletcher out with an injury until October, Altidore will likely be in the starting XI for the Black Cats and could reward his fantasy managers.

Ricky van Wolfswinkel, Norwich, Forward, 6 value

The poor man's Dutchie up front scored 15 goals in 16 league games for Sporting Lisbon. At 6'1", the 24-year-old is known as a good poacher and his low salary makes him an attractive third forward fantasy choice.

Nicklas Helenius, Aston Villa, Forward, 5.9 value

The Dane is 22 years old and at 6'5" gives Aston Villa an aerial threat along with Christian Benteke. He will wear Darren Bent's #9 jersey and could be a sleeper for fantasy managers, although playing time may be a challenge competing with Andreas Weinmann, Gabriel Agbonlahor, and Bent, if he stays.

Yaya Sanogo, Arsenal, Forward, 5.8 value

Arsene Wenger brought in the 6'3" 20-year-old sensation from France. How much playing time Sanogo will get is questionable and at only 163 pounds, he will face physical challenges playing with the big boys and competing in something other than lower league competition that he had last year. He is not recommended for fantasy rosters.

David Moberg-Karlsson, Sunderland, Forward, 5.2 value

The 19-year-old Swede is more of a project than any kind of fantasy asset. In 44 starts he had just two goals on his skimpy resume and stands only 5'10".

John Guidetti, Manchester City, Forward, 5.6 value

Good luck to him for any more playing time than has been the 21-year-old Swedish player's fortune at City. His card catalogue in the City library shows him loaned out the past four years.