Fantasy Values: New Premier League Players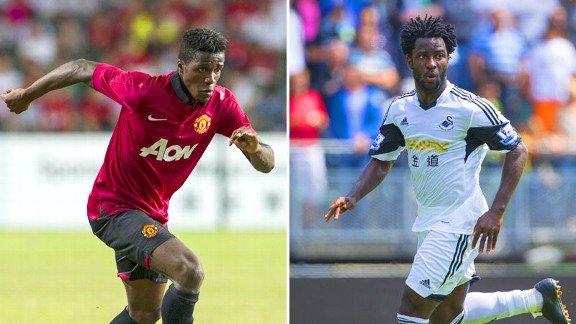 Getty ImagesSharing the same first name, will newcomers Wilfried Zaha and Wilfried Bony be the fantasy surprises of the season?
There are several players who will be closely watched in their debut Premier League season. Often times, it takes at a full year for new players to adjust to the PL with its demands on physicality, getting used to new teammates, and often playing in harsh weather conditions. Some do well in their first season, others never fully adapt. Here is a selected group of players (other than those on the three new teams to the Premier League) who might be considered for your fantasy team:

Goalkeepers:
Maarten Stekelenburg, Fulham
Stekelenburg, a Dutch international, with a fantasy value of 5.5, is 30 years old and was brought in from Roma to replace Mark Schwarzer. Fulham's defense gave up 60 goals last season. Only four other teams conceded more. We shall see if Martin Jol's upgrades on defense will remove the bulls-eye on his GK's jersey.

Notes: Former Fulham GK, Mark Schwarzer is now the backup to Petr Cech at Chelsea. Except as an injury replacement and a rotation choice for F.A. Cup and League Cup competition, the Aussie is not expected to see PL action and at 6.3 is far too expensive as a second GK.

Former Wigan GK, Joel Robles is now at Everton and the backup to Tim Howard. While his 4.5 value is budget friendly, his PL playing time will be much like Schwarzer.

Vito Mannone, formerly with Arsenal has moved to Sunderland and could be a strong challenge for the number one job now that Simon Mignolet has gone to Liverpool. His 4.4 value makes him a good choice as a second fantasy GK.

Defenders:
Razvan Rat, West Ham
The 32-year-old with Champions League experience and a great name is from Shakhtar Donetsk and is a solid addition for Big Sam whose team needed to shore up its defense. Rat is valued at 5.7 and is an excellent fantasy gamble.

Note:
Antolin Alcaraz, oft injured at Wigan, joins Everton and has a fairly high fantasy value of 5.8 for his worth.

Midfielders:
Wilfried Zaha, Manchester United
Zaha was added late on the fantasy player available list and carries a very attractive value of 6. The 20-year-old Ivorian who grew up in England has looked terrific in preseason after two sensational seasons on-loan at Crystal Palace. Playing time is a question for fantasy managers to consider, but Zaha looks comfortable on the attacking wing with Robin van Persie and Danny Wellbeck and seems capable of goals and many assists. A key is that David Moyes seems to have confidence in the lightning-quick Zaha.

Jesus Navas, Manchester City
The 27-year-old Spaniard comes with a skimpy resume when it comes to scoring goals. He had none in 37 league games for Sevilla. His point-producing history and 7.4 value make him a questionable fantasy player.

Forwards:

Wilfried Bony, Swansea
Can the 24-year-old Ivorian become this season's Michu? Bony scored a staggering 31 goals in 24 games for Vitesse Arnhem in the Dutch League -- not the quality of the PL, but still impressive. How Bony and Michu will play together will be fun to watch. Bony carries a tempting low value of 6.6.

Iago Aspas, Liverpool
The Spanish forward will be 26 when the season begins and is not the goal-scoring phenom that Suarez is. The 5'9", 148-pound Welterweight scored 50 goals at a rate of only a goal every three games and carries a value of 6.7, too pricey to recommend.

Alvaro Negredo, Manchester City
Negredo was the fourth highest scorer in La Liga last season, trailing only Lionel Messi, Cristiano Ronaldo and Radamel Falcoa. With Carlos Teves and Mario Balotelli gone, we wait to see how much and how well Negredo will play with Sergio Aguero, Edin Dzeko, and Stevan Jovetic (see below). Negredo has a value of eight and considering his body of work; the 27-year-old could be a fantasy "find" for the season.

Stevan Jovetic, Manchester City
The 23-year-old scored 13 goals for Florentina last season and 14 the year before, which shows scoring history to consider along with a 7.2 value. However, as noted above, the list of City forwards is growing and playing time is not, so adding Jovetic to your roster is risky.

More comments on new players to the Premier League in future blogs.