New Fantasy Values: Midfielders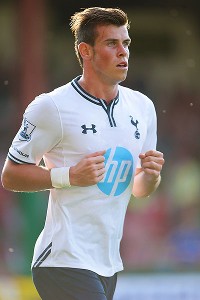 Mark Thompson/Getty ImagesGareth Bale's 9.6-million-pound fantasy salary pales compared with Real Madrid's offer of 100 million euros.
Midfielders offer the greatest opportunity for fantasy points in ESPN FC's 2013-14 Premier League fantasy game, so here is a selected list of players with their new values and salary at the end of last season:

Gareth Bale, Tottenham, 9.6 (down from 10.9): Bale is owned by more than 44 percent of fantasy managers as questions remain if he will transfer. Last season he was the top fantasy point-producer and his value opens down 1.3. With Spurs reportedly rejecting a offer of 100 million euros, it's obvious Bale's on-field value has risen to the ridiculous strata. How can they turn that down? Imagine what Spurs could do with that money to upgrade in several areas.

Santi Cazorla, Arsenal, 9.2 (up from 8.3): The diminutive Spaniard was a great bargain last season and had just 10 fewer points than Bale, but a salary that was 2.6 lower. His increase of 0.9 is reasonable, yet he is currently owned by only 14.6 percent of fantasy managers.

Michu, Swansea, 7.7 (down from 7.8): The magic season for the Spaniard saw him finish as the third-highest fantasy midfielder, yet with a value 1.9 lower than Bale. He opens at a bargain price; however, with the acquisition of forward Wilfried Bony, it remains to be seen if Michu will be the goal-scoring machine of last year. So far, 38.4 percent of fantasy managers think so.

Juan Mata, Chelsea, 8.4 (down from 9.5): Mata was the fourth-best fantasy midfielder and opens the season with a double game week. Chelsea's MVP is owned by 29 percent of fantasy managers.

Theo Walcott, Arsenal, 8.3 (down from 9.0): Walcott missed six games last season, yet was the sixth-highest midfield point-producer. So far, nearly 22 percent of fantasy managers are willing to overlook his inconsistent play and have him on their roster.

Steven Gerrard, Liverpool, 7.8 (down from 8.6): The Reds captain only missed two games and had a strong campaign. Now 33, he had shoulder issues at the end of the season and is owned by nearly 17 percent of fantasy managers.

Eden Hazard, Chelsea, 8.4 (unchanged): The Belgian had a terrific first Premier League season and has two games the first week of play. Nearly 23 percent of fantasy managers own him.

Marouane Fellaini, Everton, 7.9 (down from 8.0): The Belgian's productivity nose-dived in the second half of the season. Fellaini is the choice of less than 12 percent of fantasy managers.

Kevin Nolan, West Ham, 6.8 (up from 7): Nolan's value may be as a good third-choice forward and so far, nearly 21 percent of managers have him. He is another one whose productivity dropped in the second half of the season.

Frank Lampard, Chelsea, 8.1 (down from 8.2): Lamps has a doubleg-ame week to start the season and is a probable starter for Jose Mourinho. Whether he will play both games is iffy. Only 4.4 percent of fantasy managers have picked him.

Philippe Coutinho, Liverpool, 7.5 (up from 7.2): More than 17 percent of fantasy managers think Coutinho will continue his productivity after joining the Reds for the second half of the season. In 13 games he had three goals and five assists.

Shinji Kagawa, Manchester United, 7.1 (down from 7.4): So much potential and 9.1 percent of fantasy managers think his second PL season will be more productive than his injury-filled, lacking-in-confidence rookie campaign.

Jack Wilshere, Arsenal, 7.5 (up from 5.6): So far, Wilshere has been an awful fantasy point-producer. The media darling was 98th among midfielders and missed 13 games. Why his fantasy value went up nearly two million is beyond me. The over-rated player was picked by 4.4 percent of fantasy managers.

Ashley Young, Manchester United, 7.0 (down from 7.1): Simply a wretched fantasy player and one of the worst transfers Sir Alex ever made and only one percent of managers have him.

Tom Cleverley, Manchester United, 7.1 (up from 5.6): Only 0.7 percent of fantasy managers believe in Cleverly, and his contribution to David Moyes' team this season won't be much more.

Alex Oxlade-Chamberlain, Arsenal, 6.4 (up from 5.4): See comments on Wilshere, only not as bad since only 2.5 percent of fantasy managers have wasted their money on Ox-C.

Joe Allen, Liverpool, 6 (up from 4.5): Allen did not even average the "dreaded three" last season. He is a terrible fantasy pick and only 0.2 of managers are foolish enough to currently have him.

Next -- Forward fantasy values; check previous blogs for goalkeeper and defender values and other fantasy tips and advice for the new season.