New Fantasy Values: Defenders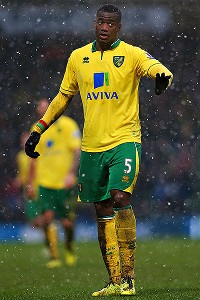 Julian Finney/Getty ImagesNorwich City's Sebastien Bassong provides the best value among defenders for fantasy owners.
The launch of the 2013-14 ESPNFC Premier League fantasy game once again has managers trying to get the most value for their 100-million-pound budget. Here is a selected group of defenders with their new value and what it was after their final game last season:

Leighton Baines, Everton, 8 (down from 8.3)
Baines led all defenders in fantasy points with 183 and is the highest-priced defender to start the season. His value dropped by 0.3 and so far, nearly 23 percent of managers have picked him for their roster. Still to be seen is if he will remain at Everton, where he is the main free-kick and corner specialist. A move to Manchester United would almost certainly reduce his point potential.

Patrice Evra, Manchester United 7.9 (down from 8.2)
Evra was the second-ranked fantasy defender and his value decreased 0.3. Only eight percent of fantasy managers have selected the Frenchman.

Nemanja Vidic, Manchester United, 7.2 (down from 8.1)
Vidic has had the highest drop in value, not surprisingly after a poor season that included a string of injuries for the 31-year-old mainstay. Whether or not he can come back strong remains to be seen. Currently he is on just three percent of rosters.

Matija Nastasic, Manchester City 7.1 (up from 6.3)
Nastasic, who injured his ankle Saturday in City's win over Sunderland, was one of the few transfer successes of the departed Roberto Mancini and is now considered a regular starter for City. He only the 55th-highest fantasy point-producer for defenders last season, and, in the minds of most fantasy managers, is still an unproven quantity that less than three percent of fantasy managers want to own.

David Luiz, Chelsea 7.2 (down from 8.0)
The Brazilian was exceptional in the Confederations Cup. For fantasy managers willing to gamble on his occasional lapses in concentration, he can bring big rewards. Currently, he is the second-most popular defender, owned by nearly 27 percent of managers.

Sebastien Bassong, Norwich, 5.5 (down from 5.7)
Bassong is the best bargain for defenders. He had a fantasy breakout season last year and was the seventh-highest point-producing fantasy defender, yet his value opened 0.2 lower than at the end of the season. His value has not gone unnoticed and the Frenchman is owned by more than 28 percent of fantasy managers, tops so far.

Cesar Azpilicueta, Chelsea, 7.3 (up from 7)
While Bassong is a great buy, Azpilicueta is overpriced. He was the 40th-highest fantasy point-producer last season and with the defensive depth at Chelsea is not likely to be much more of a force this season. He will also probably feature in many non-PL games. He is currently on less than two percent of rost.ers

Vincent Kompany, Manchester City 7.4 (up from 7)
Those who assigned his opening value think Kompany will have a better season than last. He was frequently injured and, while more than eight percent of fantasy managers own him, he carries too high a value to recommend selection.

Ashley Cole, Chelsea 7.4 (down from 7.6)
Cole no longer is the offensive threat that he was a few years ago. While he was the fourth-highest fantasy point-producing defender, he is too expensive to recommend right now. He is owned by more than seven percent of managers.

Branislav Ivanovic, Chelsea 7.8 (up from 7.2)
Luiz Suarez's main course is the entree for 15 percent of fantasy managers. He was the third-highest point-producer for defenders last season and had his value increase 0.6. More than 15 percent of fantasy managers own him.

Jan Vertonghen, Tottenham 7.3 (unchanged)
The Belgian had an excellent season and finished as the fifth highest point-producing defender. However, he is expected to miss the first three games of the season with an ankle injury suffered in Hong Kong during the Asia Cup. Currently more than 13 percent of fantasy managers are wasting their budget on Vertonghen.

Next -- Midfielders fantasy values; check previous blogs for goalkeeper values and other fantasy tips and advice for the new season.