2013-2014 Fantasy Game is launched!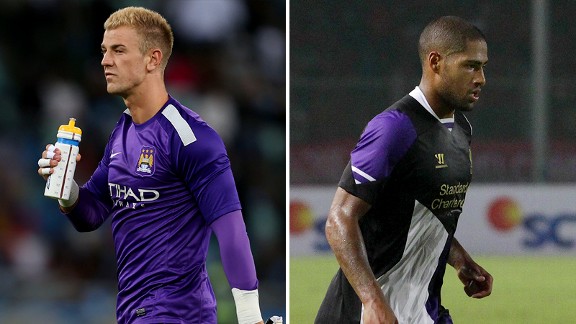 Getty ImagesJoe Hart (left) and Glen Johnson, who led their respective positions with clean sheets, will get an additional point for shutouts under the new fantasy rules.
At last, our summer without Premier League fantasy play is over and the roster selection process is now open.

In the days to come, I will have thoughts on the new assigned values as we all try to fit 15 players in the 100 million pound budget. Today, here are opinions on the rules.

Good news:

1. One of the suggestions I made was to increase points for clean sheets. This has happened with goalkeepers and defenders now able to get four points for a clean sheet, up one point from last season. All other scoring remains the same.

2. There is a news icon by some players' names that gives information on transfer possibilities, injuries, or in the case of Frank Lampard, his manager's statement that Lamps likely will have his playing time reduced. Right now there are only five such items for forwards, three for midfielders, and none for defenders or goalkeepers.

3. The Group Roster Grid now has photos of your team's players.

4. The floating salary cap will continue, enabling managers to be rewarded with a profit for players who are sold after their value increases. Conversely, if a player's value drops and they are sold, your budget will go down by the difference.

5. Double game weeks are noted differently. In Gameweek 1, Chelsea and Aston Villa play twice.

Bad news:

1. I had suggested that two points be given for a player's start and an additional point if the player was in the game for 60-plus minutes. Alas, the old system remains, which means continued agony for fantasy managers if a player is pulled just before the hour mark.

2. I hope the player information and spin section in the player available list. As it is now, the information for many players is dated (i.e. look at Patrice Evra's entry).

Wait-and-see-news:

1. The number of transfers for each segment has been increased from 20 to 30. Personally, I liked the challenge of managing your roster with limited transfers. Remember, two years ago, you only had 20 for the entire season. Now you will have 60 transfers to allow for injuries, double game weeks, etc. This will be good news to fantasy managers who can't resist burning their transfers early.

2. Until now, while there have been a few big names who will be wearing new kits, there have not been any earth-shattering player moves. Of course, that may change, so stand by. Remember, you have unlimited transfers to use until the opening day kickoff on August 17.

For an explanation of the rules, click here.