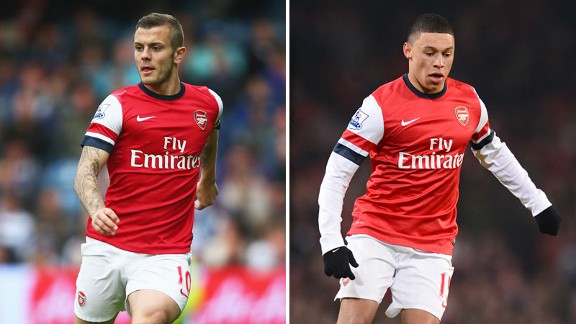 Getty ImagesArsenal's Jack Wilshere and Alex Oxlade-Chamberlain each impress England's manager, but not fantasy managers.
With the launch of the 2013-2014 ESPNFC Premier League fantasy season expected next week, if you are like me, you are considering players for your 15-man roster. In order to be successful you cannot have players who consistently give only three points each week. I call them the Dreaded 3's.

In a 38-game season, if a player averaged three points a game, he would have 114 points. Eleven of those players would give a team manager a miserable total of 1255 points for the season. That would be in the 71.4 percentile -- as close to a grade of C as you can get and a team that would be Crummy with a capital C.

Some of the players listed below were on teams that fell through the relegation trap door, while others will be in search of a new team that will employ their less-than-outstanding talent. There were many players who averaged slightly more than three-fantasy-points-a-game; however, the list below identifies only those players at or below the dreaded 3 who would do well to wear #3 on their jersey:

(Player, club, games played, and average fantasy score per game)

GK:
Robert Green, QPR, 16, 2.9
(Green was the only goalkeeper who played more than 10 games who averaged close to the dreaded 3.)

Defenders:
James Perch, Newcastle, 27, 1.8 (Now with Wigan)
Ciaran Clark, Aston Villa, 29, 2.5
Jose Bosingwa, QPR, 23. 2.7
Vurnon Anita, Newcastle, 25, 2.7
Brede Hangeland, Fulham, 35, 2.8
Ryan Shotton, Stoke, 23, 2.9
Maya Yoshida, Southampton, 32, 3
Kolo Toure, Manchester City, 15, 3 (Now with Liverpool)

Midfielders:
Fabian Delph, Aston Villa, 24, 2
Dean Whitehead, Stoke, 26, 2.1 (Now with Middlesbrough)
Tom Huddlestone, Tottenham, 20, 2.5
Joe Allen, Liverpool, 27, 2.6
Anderson, Manchester United, 17, 2.6
Alexander Tettey, Norwich, 27, 2.6
Joe Cole, West Ham, 17, 2.7
Barry Bannan, Aston Villa, 24. 2.7
Scott Parker, Tottenham, 21, 2.7
Alex Oxlade-Chamberlain, Arsenal, 25, 2.8
Jack Wilshere, Arsenal, 25, 2.8
Leon Britton, Swansea, 33, 2.9
Lucas, Liverpool, 26, 2.9
Jonas Gutierrez, Newcastle, 34, 3
Charles N'Zogbia, Aston Villa, 21, 3
*See note below

Forwards:
Carlton Cole, West Ham, 27, 2.1 (Free agent)
Kenwyne Jones, Stoke, 26, 2.3
Steven Naismith, Everton, 31, 2.4
Hugo Rodallega, Fulham, 29. 2.5
Franco Di Santo, Wigan, 35, 2.9 (Free agent)
Bobby Zamora, QPR, 21, 3

*While John Mikel Obi at 3.3 does not quite qualify for a dreaded 3, he deserves special mention since he has not scored a Premier Goal seemingly since Winston Churchill was Prime Minister. Actually, it has "only" been five years and counting, but it seems longer.