Stingiest Fantasy Midfielders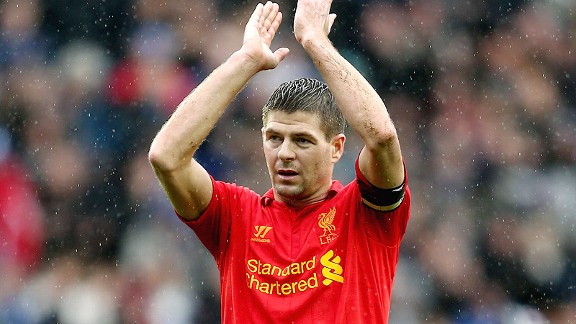 Warren Little/Getty ImagesLiverpool captain Steven Gerrard led the league's midfielders in clean sheets.
ESPNFC's Premier League fantasy game provides a token point for midfielders who play at least 60 minutes and are part of their team's clean sheet. It is not much and hardly makes much of a difference in the overall scheme of things—but points are points, so here's a look at eight midfield players who returned defensive dividends.

Steven Gerrard, Liverpool
Gerrard enjoyed an excellent season and led midfielders with 15 clean sheets. He had one Own Goal work against him in his 199-point season. His salary was 8.6 and he helped Liverpool become an excellent defensive team. Gerrard was relatively injury-free and played in 36 PL games, scoring 10 goals and dishing out nine assists.

David Silva, Manchester City
Most would agree that Silva has not been the impact player he seemed to be when he first arrived in the PL; however, he was tied for second with the most clean sheets last season, registering 14 shutouts in 32 games, 145 fantasy points, no Own Goals, and a salary of 7.8. He disappointed by scoring only five goals and getting just two assists.

Gareth Barry, Manchester City
Barry also had 14 clean sheets and was guilty of an Own Goal. Barry is not a productive fantasy midfielder (only one goal and three assists) and in Robert Mancini's scheme of things, played in a holding role and had just 103 points in 31 games. His low point total is reflected in a 6.3 salary.

Santi Cazorla, Arsenal
Cazorla played in all 38 PL games and had 13 clean sheets for the Gunners. No Own Goals, 12 goals, 11 assists, 229 points and his salary of 8.3 made him an excellent fantasy addition to any team. Cazorla was a bargain, especially when compared to Gareth Bale who had ten more fantasy points, but cost 2.6 more.

Yaya Toure, Manchester City
Fantasy managers who endured Mancini's tactics wondered what would have happened if Toure were allowed to play more on the attack. He had 13 clean sheets in his usual conservative midfield role. Six goals, five assists, 152 points, and a salary of 7.9 were part of his contribution to the tough Manchester City defense.

Mikel Arteta, Arsenal
Thirteen clean sheets for Arteta in 34 games played, he tallied 149 fantasy points and was priced at 7.6. He scored six times; four of them were penalty goals. Arteta rarely is involved in the attack.

Juan Mata, Chelsea
Mata's 9.5 salary is the highest of this group and of his 214 fantasy points, 12 of them came from clean sheets. Mata played in 34 matches and was the most versatile PL midfield player with 12 goals and 12 assists.

Eden Hazard, Chelsea
Mata's teammate also had 12 clean sheets and although he scored 21 fewer fantasy points than the Spaniard, the Belgian also was easier on the budget at 8. Hazard had nine goals and 11 assists.

Notes: Gareth Bale of Tottenham had just eight clean sheets, Shaun Malone of relegated Wigan had only five, while Tottenham's Gylfi Sigurdsson had zero since he was a substitute in 21 of the 33 games he played.