Premier League's Naughtiest Fantasy Players
In about a month, ESPNFC will launch the 2013-14 Premier League Fantasy game -- and not a day too soon!

Roster selection will be the big challenge and I'll be previewing all teams for fantasy considerations, especially with added players via the transfer route. Until then, fantasy managers can begin the process of those players worthy of consideration.

One factor is the player's on-field discipline. Fouls, yellow cards, red cards, suspensions -- all are part of the dark side of football, except those players who take a yellow for the team to prevent a goal. For fantasy managers, a player who runs afoul of the "law" too often is a liability.

Here are players who had their share of disciplinary problems last season:

Goalkeepers: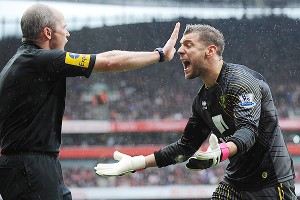 Olly Greenwood/AFP/Getty ImagesMark Bunn collected a red and two yellow cards in 23 games for Norwich City.
Mark Bunn, Norwich City -- Bunn played in 23 games and had one red card, two yellow cards.

Robert Elliot, Newcastle -- Elliot only managed to get into 10 games, but he was nailed for one red card.

Asmir Begovic, Stoke -- Begovic led the league for goalkeepers in yellow cards with three.

Defenders:

There were 17 defenders who were given red cards in the 2012-13 season; none had more than one. Four defenders had 10 yellow cards pulled on them:

Notables: Matthew Lowton, Aston Villa -- Lowton committed only 32 fouls in 37 games

James Perch, Newcastle -- Perch, one of the worst defenders in the Premier League is now with League Championship Wigan.

Midfielders:

There were 22 midfield players who picked up red cards during the season; two of them had two each.

Steve Sidwell, Fulham -- Sidwell was guilty of 56 fouls in 28 games and had the dubious distinction of being suspended for three matches after a straight red card and then on his first game back from suspension, was sent off again after just 12 minutes with another straight red card.

Steven Pienaar, Everton -- The 32-year-old South African committed 62 fouls in 35 matches. His two red cards each time came after a second yellow, which kept him out of the next game.

Two midfielders were tied with the most yellow cards at 10 each:

Craig Gardner, Sunderland -- Gardner committed 55 fouls in 33 games.

Bradley Johnson, Norwich City -- Johnson was a hatchet man in midfield, committing 69 fouls in 38 games.

Note: Stoke midfielder Dean Whitehead achieved a dubious "honor" by getting his one red card in the first game of the season and then had nine yellow cards in his remaining matches. He started only 12 games and was a substitute in 14. He committed 29 fouls, took only five shots and scored just one goal and had no assists. When the season was over, it was no surprise the 31-year-old Englishman was released on a free transfer, essentially put in a blue rubbish bin. Whitehead has since been picked up and recycled with League Championship Middlesbrough for 2013-14.

Forwards: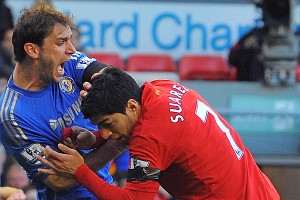 Andrew Yates/AFP/Getty ImagesLuis Suarez's red-card tally could've been higher had the referee noticed his affinity for biting against Chelsea, with Branislav Ivanovic on the receiving end.
There were eight red cards given to forwards for the season; none had more than one.

Not surprising, Liverpool hot-head, finger-flipping, bad mouth, Luis Suarez led forwards with 10 yellow cards. He escaped a red card when referee Mark Halsey did not see his instant craving for Serbian wings.

Suarez committed 48 fouls in 33 games and had 61 fouls allegedly committed against him.