Premier League first-year challenges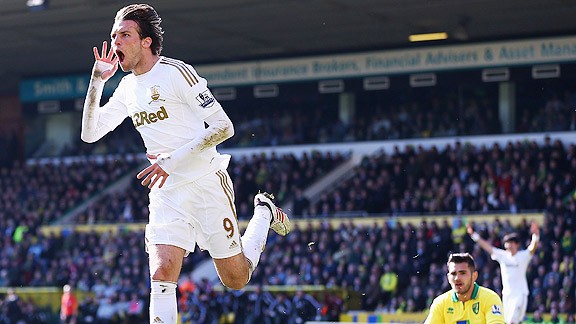 Matthew Lewis/Getty ImagesMichu made quite an impression in his PL debut season.
When the transfer window officially opens Monday, a number of players will officially be in the fold of their new teams. All come with high hopes of success; however, fantasy managers should remember that history shows that for some players, it takes at least a full season to adapt to the Premier League's style of play, weather conditions, and becoming comfortable with teammates on and off the pitch.

There is a long list of players who came from outside the Premier League with pages of newspaper clippings who never made the impact that was predicted. They include, Marko Marin, Javi Garcia, Esteban Grandero, David N'Gog, Andriy Voronin, Bebe, Park Chu-Young, and Juan Veron.

This past season the following players who came from outside the PL had successful first-year seasons:

Michu, Swansea City forward: 18 goals, two assists. The Spaniard was the fantasy find of the year and had 223 points with a bargain salary of 7.8.

Santi Cazorla, Arsenal midfielder: 12 goals, 11 assists, and played all 38 games. Cazorla is a terrific field general and classy professional and was the second highest fantasy point producer for midfielders with 229 and an 8.3 salary.

Eden Hazard, Chelsea midfielder: 9 goals, 11 assists. The Belgian was an unqualified success.

Phillippe Countinho, Liverpool midfielder: A January transfer, the Brazilian scored three goals and had five assists in 11 matches, showing he did not need a year to get the feel of the PL.

Rickie Lambert, Southampton forward: Lambert did not come from outside of England. But in his first year with Southampton in the big leagues, Lambert's 15 goals and four assists made for a storybook season for the throwback veteran and a bargain for fantasy managers at 7.6 and 178 fantasy points.

Arouna Kone, Wigan forward: Although the Latics were relegated, Kone's 27 games produced 11 goals and five assists in his first PL season.

Lukas Podolski, Arsenal forward: The German transfer had 11 goals and nine assists in a good first year.

Olivier Giroud, Arsenal forward: 11 goals and three assists made for a good initial PL season, although he may have led the league in missed chances.

Christian Benteke, Aston Villa forward: The Belgian was one of the surprise stories of 2012-13. Nineteen goals and four assists made for a sensational first season and will likely find him modeling a kit for a new team in 2013-14.

Jan Vertonghen, Tottenham defender: Once Andre Villas-Boas punched in and kept the Belgian in the lineup, Vertonghen proved to be a huge first-year success.

Matija Natasic, Manchester City defender: The young Serbian played 21 matches and locked down a permanent position on the tough City defense.

There were many transfer players who showed they need more time in the PL to develop their potential. They include:

Oscar, Chelsea midfielder: While he scored five PL goals and had two assists, Oscar was not a consistent superstar on the pitch. Perhaps that will come with time.

Shinji Kagawa, Manchester United midfielder: The classy player from Japan showed great promise in preseason; however, he struggled for much of his first PL year with form and injuries.

Moussa Sissoko, Newcastle midfielder: The French January transfer burst on the scene with early goals and assists and then the league either figured him out, or he petered out. He was a major disappointment to fantasy managers.

Yoan Gouffran, Newcastle forward: Sissoko's fellow countryman also came at midseason and floundered.

Steven Naismith, Everton forward: Naismith showed the gap in quality from the Scottish Premier League and the English Premier League. For most of his first year, he looked as if he belonged in the English Championship.

Nacho Monreal, Arsenal defender: The 27-year-old had ten forgettable appearances.

Andre Wisdom, Liverpool defender: Wisdom had a dozen starts and not much of a clue about what it takes to be successful in the PL.

Luke Shaw, Southampton defender: The 17-year-old was the darling of TV commentators. While he did not embarrass himself, he showed that he needs a lot more seasoning.