Premier League Fantasy Ironmen: Part 1 (Goalkeepers and Defenders)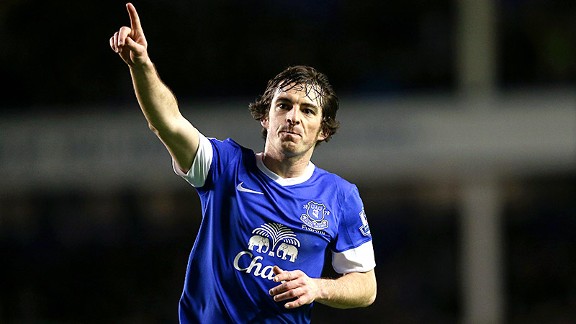 Clive Brunskill/Getty ImagesLeighton Baines was the only Premier League defender to play every minute of every PL game.
Fantasy managers know if you have players who start most games and usually put in 90 minutes, you have a better chance for fantasy success. So, who are the Premier League ironmen?

Four goalkeepers and one defender played all 38 Premier League games and were on the pitch for every minute (3420 maximum). While they were rested for some tournament games, their PL ironman performance is remarkable.

In the first of two parts, here are the ironmen of goalkeepers and defenders who played 3100 or more minutes:

Goalkeepers:

Joe Hart, Manchester City, 38 games, 3420 minutes, 178 points
Jussi Jaaskelainen, West Ham, 38 games, 3420 minutes, 171 points
Simon Mignolet, Sunderland, 38 games, 3420 minutes, 163 points
Asmir Begovic, Stoke, 38 games, 3420 minutes, 158 points
Mark Schwarzer, Fulham, 36 games, 3240 minutes, 163 points
Tim Howard, Everton, 36 games, 3240 minutes, 147 points
Brad Guzan, Aston Villa, 36 games, 3240 minutes, 131 points
Petr Cech, Chelsea, 36 games, 3195 minutes, 163 points

Defenders:

Leighton Baines, Everton, 38 games, 3420 minutes, 183 points
Ashley Williams, Swansea, 37 games, 3330 minutes, 118 points
Ryan Shawcross, Stoke, 37 games, 3330 minutes, 134 points
Matthew Lowton, Aston Villa, 37 games, 3267 minutes, 116 points
Gareth McAuley, WBA, 36 games, 3240 minutes, 134 points
*Jonas Olsson, WBA, 36 games, 3240 minutes, 107 points
Glen Johnson, Liverpool, 36 games, 3224 minutes, 154 points
Kyle Walker, Tottenham, 36 games, 3160 minutes, 126 points
Phil Jagielka, Everton, 36 games, 3155 minutes, 142 points
Robert Huth, Stoke, 35 games, 3150 minutes, 129 points
Emerson Boyce, Wigan, 36 games, 3146 minutes, 118 points
Winston Reid, West Ham, 36 games, 3145 minutes, 119 points
Daniel Agger, Liverpool, 35 games, 3100 minutes, 152 points

*Although he was an ironman, based on his point production, Jonas Olsson was a poor fantasy player.

So, if these are Premier League ironmen, there are others who because of injury or uneven form might fit in the balsa wood category.

Wigan goalkeeper Ali Al Habsi played in 29 games. During his 2610 minutes he gave up an astounding 57 goals. A human target for the Latics, he made 85 saves.

Manchester United defender Rio Ferdinand, with one of the highest fantasy salaries at 7.3, played 2336 minutes in 28 games and conceded 32 goals. His teammate Nemanja Vidic had the third highest salary at 8.1, yet played in only 19 games for 1620 minutes.

One of the worst fantasy defenders is James Perch of Newcastle. He played 27 games, 1825 minutes and was on the pitch when 41 goals were conceded. Joe Bennet also had balsa wood in his game. In 25 games, he played 1858 minutes and leaked 45 goals.

In Part 2, Premier League ironmen of fantasy midfielders and forwards.