Premier League Fantasy Top 7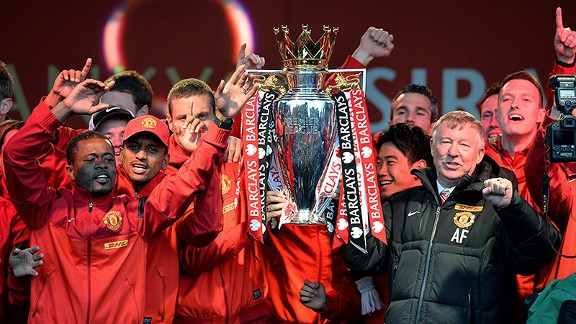 Andrew Yates/AFP/Getty ImagesManchester United would not be celebrating Premier League supremacy on fantasy points.
The final top 7 teams in the Premier League table for 2012-2013 were:

1. Manchester United
2. Manchester City
3. Chelsea
4. Arsenal
5. Tottenham
6. Everton
7. Liverpool

However, if you take the highest fantasy point totals using a goalkeeper, three defenders, five midfielders, and two forwards, based on the season's fantasy points for each team (some players were with two teams), the table would have looked like this:

1. Chelsea -- 1685 points

Petr Cech, Branislav Ivanovic, David Luiz, Ashley Cole, Juan Mata, Eden Hazard, Frank Lampard, Oscar, Ramires, Demba Ba, FernandoTorres

2. Everton -- 1508 points

Tim Howard, Leighton Baines, Phil Jagielka, Sylvain Distin, Marouane Fellaini, Steven Pienaar, Leon Osman, Kevin Mirallas, Yohan Cabaye, Victor Anichebe, Nikica Jelavic

3. Arsenal -- 1448 points

Wojciech Szczesny, Per Mertesacker, Laurent Koscielny, Kieran Gibbs, Santi Cazorla, Theo Walcott, Mikel Arteta, Alex Oxlade-Chamberlain, Jack Wilshere, Lukas Podolski, Olivier Giroud

4. Manchester City -- 1404 points

Joe Hart, Pablo Zabaleta, Gael Clichy, Vincent Kompany, Yaya Toure, David Silva, Gareth Barry, James Milner, Samir Nasri, Carlos Tevez, Edin Dzeko

5. Liverpool -- 1399 points

Pepe Reina, Daniel Agger, Jose Enrique, Martin Skrtel, Steward Downing, Steven Gerrard, Lucas Leiva, Jordan Henderson, Raheem Sterling, Luis Suarez, Daniel Sturridge

6. Tottenham -- 1363 points

Hugo Lloris, Jan Vertonghen, Laurent Koscielny, Michael Dawson, Gareth Bale, Aaron Lennon, Clint Dempsey, Moussa Dembele, Gylfi Sigurdsson, Jermain Defoe, Emmanuel Adebayor

7. Manchester United -- 1353 points

David DeGea, Patrice Evra, Rafael, Jonathan Evans, Michael Carrick, Shinji Kagawa, Antonio Valencia, Tom Cleverly, Ryan Giggs, Robin van Persie, Wayne Rooney

Manchester United scored the most goals (86) in the PL last season, yet their fantasy points were a whopping 332 short of Chelsea. Manchester United supporters can rightly say fantasy-schmantasy; their team emerged with a comfortable league title.

For PL fantasy managers, Manchester United's midfield players were not good fantasy point-producers. On the other hand, Chelsea's midfielders posted big numbers while their forwards came up short. Even with Wayne Rooney going missing toward the end of the season, Manchester United was far and above the strongest in fantasy forward points while Tottenham was the weakest.