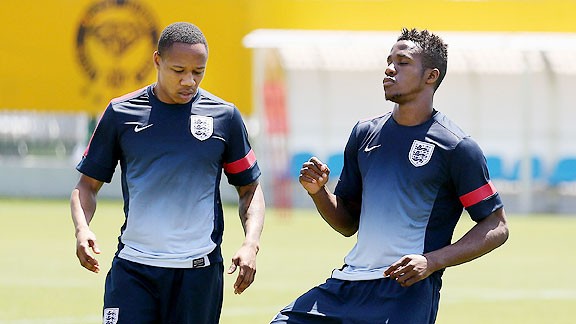 Ian Walton/Getty ImagesNathaniel Clyne, left, and Wilfried Zaha weren't able to help England's U-21 team, but they do have promising futures in the Premier League.
The summer months for Premier League fantasy managers trying to fight through life without our weekly PL fix is a time to keep eyes on the transfer market and look for players who are on the verge of stardom. Here are seven to consider:

Wilfried Zaha, forward, 5-foot-11, 20 years old: Property of Manchester United, Zaha was loaned to Crystal Palace and voted Championship Player of the Year. Zaha scored six goals and his manager Ian Holloway wants to renew his loan from the Manchester United library and keep him another season for the newly promoted Eagles.

Chances of making a significant fantasy impact are excellent if he remains with Crystal Palace, slim if he is part of Manchester United's roster.

Tom Ince, forward, 5-10, 21: Liverpool property, with loan spells at Notts County and currently at Blackpool. Scored 24 goals for Blackpool in the Championship League and was runner-up Player of the Year to Zaha.

A return to Liverpool is problematic. He enjoys playing for his father, Paul, a former England captain and manager at Blackpool.

Callum McManaman, Wigan, forward, 5-10, 22: McManaman is remembered more for his horrific tackle on Massadio Haidara than his impressive late-season contributions at relegated Wigan. He played 20 games, 12 as a substitute and scored two goals. He signed a contract extension in January that ties him to Wigan until 2016, so it is unknown if he will be sold by the Latics to a Premier League team or remain in the Championship. Since Roberto Martinez moved from Wigan to Everton as manager, reports suggest that he may try to bring McManaman with him.

Ross Barkley, Everton, midfielder, 6-2", 19: The Liverpool native is yet to blossom into the player most people have predicted. Fully recovered from a broken leg in 2010, Barkley played seven games for David Moyes, two as a starter.
It remains to be seen what his role will be with Roberto Martinez and what happens to other players around him, most notably Maroune Fellaini. Everton needs players who can score goals. The likely scenario is another season with a few more appearances than last season (seven with only two starts), but no immediate fantasy contributions.

Raheem Sterling, midfielder, Liverpool, 5-7, 18: The Jamaica native had 24 appearances and started 19 PL games, most in the first part of the season. He scored two goals and had two assists. Sterling is a temperamental project who has had off-the-field issues. He missed the last seven weeks of the season with a thigh injury; however, Brendan Rodgers said Sterling was fatigued and he did not want to "burn him out." He probably was the player singled out by Rodgers in the TV series "Being Liverpool" as the one who would be "sent home on the first plane out" if he didn't toe the line. Sterling could have a fantasy impact if he stays fit and gets his act together. He deserves more playing time, especially over the awful Joe Allen.

Luke Shaw, defender, Southampton, 6-1, 17: Sir John was one of those who saw promise in Shaw and carried him the entire season. Unfortunately, Shaw never posted significant numbers, averaging 3.1 fantasy points while appearing in 25 games, 22 as a starter. He shows good savvy on the pitch and has the height to be a goal-scoring threat on set pieces. He is probably best to consider as a bench defender for next season.

Nathaniel Clyne, defender, Southampton, 5-9, 22: Clyne is on the back line with Shaw and the two worked well together. Clyne scored one goal and had three assists and started all of the 34 games he played. He only took eight shots (compared to seven for Shaw in nine fewer games), and had one goal in his three seasons at Crystal Palace, so his scoring is still to be seen. Clyne, too, is worthy of consideration as a low-cost bench defender (although having two bench defenders from the same team is not recommended and Sir John prefers his defenders taller than six feet).

Those are seven to consider. What players do you tip for stardom?