Worst Fantasy Disappointments: Part 2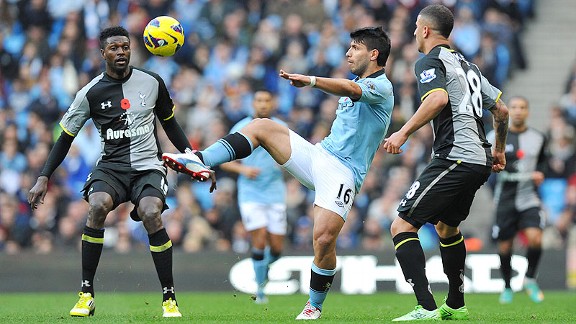 AP ImagesEmmanuel Adebayor, left, and Sergio Aguero, center, both had seasons below the standards they set in previous years.
In previous blogs throughout the past week, I offered several Premier League players who had fantasy seasons that exceeded expectations.

Monday, I went to the opposite end of the spectrum and looked at a goalkeeper, three defenders and four midfielders who, for various reasons, never have lived up to their potential and were liabilities for any manager who had them on their roster. Tuesday in Part 2, a look at five forwards.

Emmanuel Adebayor, Tottenham: 76 points, 6.8 salary, owned by 1.52% of managers.
On paper, Adebayor's permanent move to Spurs from Manchester City looked good. As it turned out, AVB got a player who is more ADD than fully focused. The 29-year-old player who scored 17 goals for Spurs in 2011-12 and 24 goals for Arsenal in 2007-2008 had five goals and one assist in 25 games in 2012-13. Although he had two PL goals in his last three games, it was not enough to help the team gain a Champions League position.

Javier Hernandez, Manchester United: 85 points, 5.9 salary, owned by 3% of managers.
Chicharito remains in the shadows of stardom. Even with 10 goals and three assists in 22 games (only nine starts) Chicharito is an unreliable fantasy roster addition. Wayne Rooney's tenuous future with the team may portend more playing time at Old Trafford; however, it remains to be seen what players will be joining United over the summer.

Nikica Jelavic, Everton: 117 points, 5.6 salary and owned by 1.47% of managers.
In 37 games (26 starts), Jelavic averaged only three fantasy points a game, so his seven goals and two assists were not enough to justify his presence on any fantasy team. Long forgotten were his nine goals in 10 matches when he first joined the Blues two seasons ago after scoring 14 goals in 21 games with SPL Rangers.

Sergio Aguero, Manchester City, 122 points, 7.1 salary, owned by 12% of managers.
For all the hype and spectacular goals, Aguero's season was a fantasy letdown. He started just 22 games of the 30 he played, and had bouts with injuries. Twelve goals and two assists in 2012-13 pale in comparison to the 23-8 he posted in 31 games two years ago.

Wayne Rooney, Manchester United, 136 points, 8.5 salary, owned by 13% of managers
Rooney is listed mainly because of what should have been a more productive season. Yes, he scored 12 goals and had 10 assists; however, he only played in 27 games and was not on the team sheet in the final two matches. His last start for SAF was April 14 and his last PL goal March 16.

Dishonorable mentions: Gervinho, Arsenal; Carlton Cole, West Ham; Steven Naismith, Everton

In the blog, I have given my choices for the good and the bad. I would like to hear from you and I'll compile all of your suggestions into two teams. It's all part of the therapy we need to get us through the dreaded Premier League off-season.