Worst Fantasy Disappointments: Part 1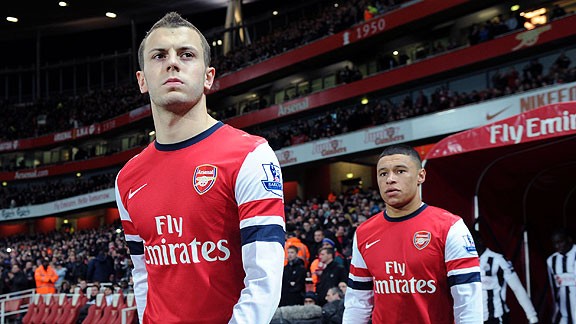 David Price/Arsenal FC/Getty ImagesArsenall's Jack Wilshere and Alex Oxlade-Chamberlain were fantasy disappointments.

In previous blogs, I offered several Premier League players who had fantasy seasons that exceeded expectations. Now, we go to the opposite end of the spectrum and meet those players who, for various reasons, never lived up to their potential and were liabilities for any manager who had them on their roster.

Goalkeeper

Ali Al Habsi, Wigan: 96 points, 4.9 salary, owned by 6% of managers.
Al Habsi could do no wrong in 2011-12 and was part of the Latics' dramatic survival story. This season, his game went south, the team dropped to the Championship, and he was an unused substitute in nine of his last ten PL games.

Defenders

Jose Bosingwa, QPR: 63 points, 4.9 salary and owned by 0.6% of managers
The once-productive Chelsea player dogged his way through the season and was a plague for Harry Redknapp's relegated Rangers. He "played" in 23 games.

Thomas Vermaelen, Arsenal, 81 points, 5.1 salary, owned by 4% of managers
One of the few Belgian imports who had a bad season and lost his place in the lineup to the likes of Kieran Gibbs, Laurent Koscielny, Per Mertesacker, and Bacary Sagna. The 27-year-old mainstay for Arsene Wenger appeared in 29 games but toward the end was either an unused substitute or a late replacement.

Brede Hangeland, Fulham: 99 points, 5.4 salary and owned by 1.4% of managers.
The 31-year-old Norwegian is no longer a goal-scoring threat. He sat out three games after a red card and in 35 matches played he had no goals nor assists. He was on a 12th-place team that gave up 60 goals.Midfielders

Charles N'Zogbia, Aston Villa: 64 points, 4.7 salary, owned by 0.39% of managers.
At one time, N'Zogbia was a goal-scoring threat with Wigan (9 in 2010-11), but no more. Two goals and four assists in 21 matches, 10 as a substitute, make the 27-year-old Frenchman more of a N'Zero for fantasy managers.

Alex Oxlade-Chamberlain, Arsenal: 71 points, 5.4 salary and owned by 1% of managers.
There may be future stardom for the 19-year-old Englishman, and he is part of the national team. However he does no favors to fantasy managers. In 25 games, 14 as a substitute, Ox-C had one goal and three assists.

Jack Wilshere, Arsenal: 70 points, 5.6 salary and owned by 5% of managers.
Ox-C and Wilshere are 1 and 1A in disappointments as fantasy players. Wilshere started 20 of the 25 games he appeared in, yet took only 12 shots. He had zero goals and three assists and added a red card to his resume. He, too, is an international. And he too is a lousy fantasy player.

Joe Allen, Liverpool: 72 points: 4.5 salary and owned by 0.35% of managers.
While Wilshere fired 12 blanks in 25 games, Allen only found the trigger nine times in 27 games, 21 as a starter. Brendan Rodgers has a thing about the 23-year-old Welshman who played for him at Swansea. Fantasy managers should stay away from Allen at all costs. Rodgers must know his decision to bring the 5-foot-6 flop to Liverpool was made with his heart and not his head. Allen should sit or be cut and his playing time given to Philippe Coutinho.Next: Fantasy forward flops.