Fantasy player rubbish bin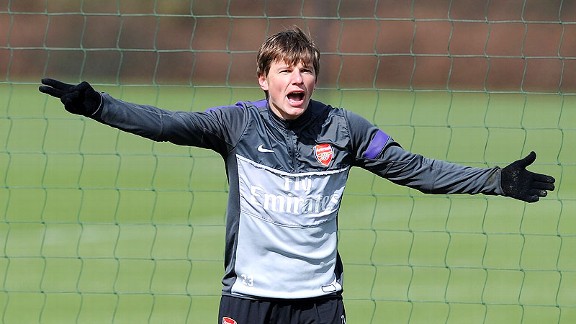 Stuart MacFarlane/Arsenal FC via Getty ImagesArsenal fans won't be missing Andrei Arshavin who finally departs the Emirates after another disappointing season.
Premier League players discarded by their teams as free transfers mean the clubs receive no compensation if the player signs with another team. The current list is an interesting mix of players who were dumped in the collective rubbish bin for reasons that range from age, injury, personality conflicts, lost skill, bad attitude, and too high a salary.

At one time the following players were highly desirable in ESPNFC's fantasy game:

Mark Schwarzer, Fulham goalkeeper: At 40, Schwarzer declined to sign again with the Cottagers and may have some saves and clean sheets still in his net. He may turn up with another PL club.

William Gallas, Tottenham defender: Chelsea, Arsenal, and the final stop at Spurs. The one-time French international at 35 is done.

Eric Lichaj, Aston Villa defender: The 24-year-old American with the difficult last name to pronounce started eight of 17 games, but was part of a leaky defense and now will try to catch on with someone else.

Ronnie Stam, Wigan defender: Relegated Wigan parted with Stam. He holds the distinction of usually being the cheapest priced defender in fantasy competition.

Titus Bramble, Sunderland defender: Seemed to be good more for his "bumbles" and a good howler than his defensive work. Sixteen games for Sunderland were enough for the 31-year-old Englishman.

Kolo Toure, Manchester City defender: The 31-year-old Ivorian has had injury and personal issues and now is cast aside.

Chris Baird, Fulham defender: The Northern Ireland international is 31 and was a fairly good fantasy point producer, but now is part of the Fulham housecleaning.

Rory Delap, Stoke midfielder: At 36, the player who put the attack into long tosses, played only six matches on loan at Barnsley.

Giorgos Karagounis, Fulham midfielder: The feisty Greek is 36.

Florent Malouda, Chelsea midfielder: Scored 13 goals three years ago but last played in the 2012 Champions League final. Sentenced to train with the U21 team, Malouda is now on the scrap heap.

Yossi Benayoun, Chelsea midfielder: Now 33, the Israeli international never duplicated his success at Liverpool four years ago. Loan stops at West Ham and Arsenal never panned out and now Chelsea is part of his past.

Andrei Arshavin, Arsenal midfielder: Arshavin came as Russia's most famous player and after a 10-goal season with the Gunners in 2009-2010, he seemed to be on his way to PL glory. However, it soon was evident that the league had figured him out and his pouting and lazy approach to the game turned off fan support. Now 32, he is gone and soon to be forgotten.

Dean Whitehead, Stoke midfielder: Whitehead was worse than the "dreaded three-point" players and gave only 2.1 fantasy points a game on average for the Potters. The 31-year-old had one goal and in 26 games only took five shots!

Paul Scholes, Manchester United midfielder: Now twice-retired (first in 2011 and then again in May 2013) he is one of the great midfielders to play the game. The 38-year-old never was a great fantasy point-producer but was with Manchester United his entire career. He had 66 caps for England. Although it was a bookkeeping formality, it seems sad to see his name on the free transfer list.

Zoltan Gara, WBA midfielder: The Hungarian international scored four goals in 16 games, but the 34-year-old was often injured and now is expendable.

David Bentley, Tottenham midfielder: The 28-year-old is someone whose game never measured up to his good looks. He has modeled kits for Arsenal, Norwich City, Blackburn, Spurs, Birmingham, West Ham, and even England.

Marc-Antoine Fortune, WBA forward: The 31-year-old Frenchman scored two goals in 21 matches and seemed a good fit, but has been dumped.

Carlton Cole, West Ham forward: For some reason it seems the Hammers one-time England international is older than his listed age of 29. In 27 matches, he scored two goals. Big Sam apparently had enough and Cole is history.

Mladen Petric, Fulham forward: In 23 matches he scored five goals.

Franco Di Santo, Wigan forward: A one-time Chelsea starlet, the 24-year-old Argentinean may still fulfill his promise, but his goal-scoring record has dipped since notching 16 three years ago for the Latics. Another Premier League team will likely pick him up. Teams like Sunderland, Stoke, Norwich City, Fulham, and West Ham who need scoring could take a chance.