Biggest Fantasy Surprises: Part 2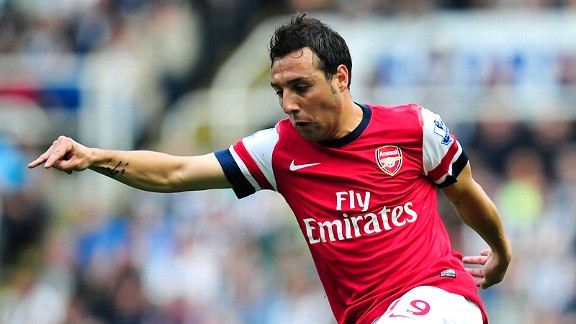 Stu Forster/Getty ImagesArsenal's Santi Cazorla was an immediate success in his first year playing in the Premier League.
Fantasy managers rightfully expected and received outstanding performances this season from the likes of Robin van Persie, Gareth Bale, Leighton Baines, and Joe Hart. But, what about those players who began the season without Premier League credentials?

Earlier this week, I detailed reasons why I thought Simon Mignolet, Jan Vertonghen, Sebastien Bassong, and Per Mertesacker were among the biggest fantasy surprises in the Premier League for 2012-13.

Here are midfielders and forwards who may not have been expected to reward their fantasy managers as much as they did:

Santi Cazorla, Arsenal, midfielder: 229 points, 8.3 salary, owned by 39% of managers.
The diminutive 28-year-old Spaniard was the Gunners' ironman, appearing in all 38 games and scoring 12 PL goals with 11 assists. In his first year with Arsenal, Cazorla had a seamless transition and quickly became their heart and soul. Not many managers had him to begin the season, but soon was a familiar name on rosters.

Michu, Swansea, midfielder: 223 points, 7.8 salary, owned by 53% of managers.
Miguel Perez Cuesta was the feel-good story of the season. The 27-year-old Spaniard came with few press clippings, but was given a shot by Michael Laudrup. He responded by scoring 18 goals in 35 PL games, a remarkable accomplishment considering the entire Swans team had 47. Graceful, likable, lethal, and a good team player, Michu was mucho for fantasy managers and, with a 7.8 salary, was undervalued all season.

Eden Hazard, Chelsea, midfielder: 193 points, 8.4 salary, owned by 17% of managers.
With the exception of a blip during the season when the first-year 22-year-old Belgian was suspended three games for kicking a ballboy at Swansea, Hazard had a great campaign. He played 34 matches and scored nine goals and had 11 assists, clearly outshining his midfield teammate, Oscar.

Philippe Countinho, Liverpool, midfielder: 73 points, 7.2 salary, owned by 7% of managers.
In this examination of surprising fantasy players, the 20-year-old Brazilian was a revelation after joining Liverpool in January 2013. He played 13 games and scored three goals and had five assists, averaging 5.6 fantasy points a game. Most likely he could have done even more had Luis Suarez not turned into a cannibal.

Rickie Lambert, Southampton, forward:: 178 points, 7.6 salary, owned by 20% of managers.
The 'throwback' 31-year-old Englishman has toiled in leagues from the bottom to the top and proved that he belongs in the top flight with 15 goals and five assists for a 14th-place team that scored just 49 goals. His bargain salary was a welcome bonus.

Christian Benteke, Aston Villa, forward: 174 points, 8.2 salary and owned by 16% of managers.
Another member of the Belgian bonanza of players, Benteke in his first season with Aston Villa had 19 goals and four assists in 34 games. Without the 22-year-old, Villa would have been relegated.

Aurona Kone, Wigan, forward: 157 points, 7.2 salary and owned by 7% of managers.
Ran hot and cold and was away at the Africa Cup of Nations, but the 29-year-old Ivorian rewarded fantasy managers with 11 goals and five assists in 34 games in his first season for now-relegated Wigan. A bad move was to bring him on fantasy rosters toward the season's end as he scored just one PL goal in his last nine games.

Romelu Lukaku, West Brom, forward: 147 points, 7.1 salary and owned by 10% of managers.
Another import from Belgium, the 20-year-old was the most impressive on-loan (from Chelsea) player of the season, scoring 17 goals and with four assists in 35 games. He helped WBA to their highest Premier League finish (eighth) in history and rewarded fantasy managers, especially those who had his hat trick on the final game of the season.

Honorable mentions: Asmir Begovic, Stoke, GK; David Luiz, Chelsea, D; Gareth McAuley, West Ham, D; Juan Mata, Chelsea, M; Kevin Nolan, West Ham, M; Lukas Podolski, Arsenal, F; Frank Lampard, Chelsea, M; Dimitar Berbatov, Fulham, F.

Those are a few players I picked. What about you? Give me your selections and I'll put together a blog with players who appeared on most of your lists.

In a future blog entry, I will share players I consider the biggest fantasy disappointments.