Biggest fantasy surprises: Part one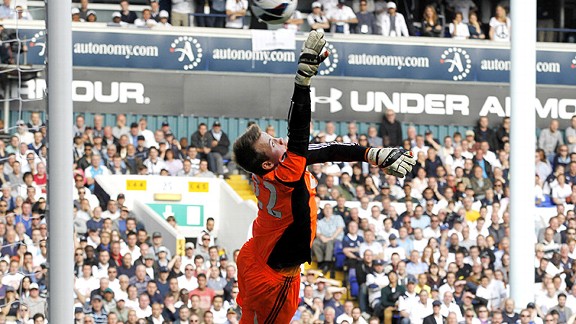 Ian Kington/AFP/Getty ImagesSimon Mignolet was one of Sunderland's best performers last season
Each season of Premier League fantasy competition there are players who emerge as surprise fantasy point-producers. We all expected and got big seasons from the likes of Robin van Persie, Gareth Bale, Leighton Baines, and Joe Hart. However, there were other players who were either new to the Premier League or lifted their game several notches and rewarded their fantasy managers accordingly.

In the first of two parts, I will offer a partial list of players who performed at levels that seemed to exceed expectations. In Part One: a goalkeeper and three defenders.

Simon Mignolet, GK, Sunderland, 163 points. 5.4 salary and owned by 18% of managers.

Mignolet's success came on a team that barely escaped relegation. The Black Cats had a crummy record of 9-12-17 and scored only 41 goals in 38 matches. However, the 25-year-old Belgian had 11 clean sheets and made 149 saves and played in every game. Sunderland conceded 54 goals, only 19 at home. Helping Mignolet were defenders Carlos Cuellar, John O'Shea, and Danny Rose.

Jan Vertonghen, D, Tottenham, 159 points, 7.3 salary and owned by 19% of managers.

Another member of the Belgian contingent, the 26-year-old defender's first season with Spurs produced four goals and three assists. Spurs only conceded 46 goals in 38 matches, just three more than first place Manchester United. Vertonghen came with good credentials; however, not all transfers find life in the PL to their liking, especially in their first season. Vertonghen delivered.

Per Mertesacker, D, Arsenal, 153 points, 7.5 salary and owned by 5% of managers.

The 28-year-old German giant took a while to gain the confidence of Arsene Wenger and had a red card early in the season. However, when the campaign was over, Mertesacker had scored three goals and helped his team gain a coveted Champions League position. The Gunners conceded only 37 goals, second best in the league. Mertesacker's 7.5 salary was high for a defender and few managers had him on their rosters, but he proved to be money in the fantasy bank.

Sebastien Bassong, D, Norwich, 144 points, 5.7 salary and owned by 28% of managers.

The 26-year-old Frenchman played in all but four of the Canaries' games and helped secure an 11th place finish. While Norwich gave up 58 goals, Bassong had three goals and two assists making the most of his 15 shots. Bassong was an excellent bargain and considering his mediocre seasons at Spurs and Newcastle, he is one of the surprise fantasy performers of 2012-2013.

Part two will offer comments on four midfielders and four forwards. In both pieces, I ask you to give me your selections for most surprising fantasy performers. I'll compile those suggestions and share them with you in a future blog.