International fantasy: Go figure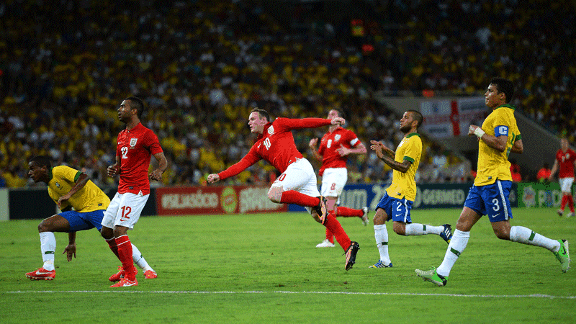 GettyImagesPremier League fantasy managers will be wondering why Rooney can score for England but not Manchester United
While Premier League fantasy managers struggled to make it through another week in the off-season, there were curious scenes around the world that gave good reason for some fantasy managers to wonder where these players were during the PL regular season.

At the top of the list was Manchester United forward Wayne Rooney, who was lost in space for the last few weeks of the PL season. He scored for England against Brazil. Rooney now has seven goals in his last seven international appearances.

Another Manchester United player who was anonymous for most of the season, midfielder Antonio Valencia, scored a goal for Ecuador in his country's game against Germany.

And there was Manchester United forward Javier Hernandez. Chicharito, unable to get much playing time for Man Utd during the PL season, scored a brace for Mexico against Nigeria.

James Milner of Manchester City had an assist for England in the Brazil match.

Clint Dempsey, whose final weeks for Spurs were quiet, scored three goals in two international games for the USA, one against Belgium and two against Germany.

Stoke property Geoff Cameron produced a shock goal for the USA against Belgium.

One of the biggest fantasy flops so far in his career, Alex Oxlade-Chamberlain of Arsenal is the darling of Roy Hodgson and he scored the first goal for England against Brazil.

For most of the second half of the PL season, Everton midfielder Marouane Fellaini wasted space for the Blues, but he had a goal against the USA for Belgium.

Aston Villa forward Christian Benteke, one of the hottest fantasy players in the PL sizzled for Belgium against the USA and scored a brace, while Everton's Kevin Mirallas also notched a goal in that game.

Paul McShane, who will be with Hull as they return to the Premier League, had a clean sheet in goal for Ireland against Georgia and his Irish teammate James McClean of Sunderland scored a goal. Forward Simon Cox of relegated Reading also scored for Ireland.

Frank Lampard of Chelsea got a goal for England against Ireland while Shane Long of West Brom scored for the Irish.

And Lukas Podolski of Arsenal bagged a brace for Germany in the rout over Ecuador.

Message to fantasy players on international duty: Save some goals, assists, and clean sheets for August 18.