Best Fantasy Team for 100 million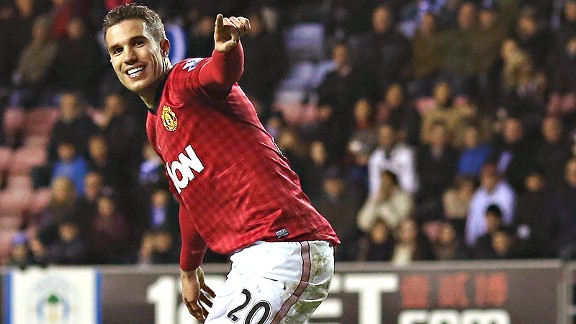 Matthew Peters/Man Utd/Getty ImagesRobin van Persie is part of a surprise for Sir John's so-called 'dream team'.
The final tally of Premier League player fantasy points gives us an opportunity to see the ultimate "What if?"

The following roster of 15 players represents the highest points at each position and then assembling the remainder of a team within the 100 million salary limit.

Starting XI (player, team, salary, and fantasy points are listed):

Goalkeeper:
Joe Hart, Manchester City, 6.9, 178

Defenders:
Leighton Baines, Everton, 8.3, 183
Sebastien Bassong, Norwich, 5.7, 144
Ryan Shawcross, Stoke, 5.6, 134

Midfielders:
Gareth Bale, Tottenham, 10.9, 239
Michu, Swansea, 7.8, 223
Marouane Fellani, Everton, 8, 175
Kevin Nolan, West Ham, 7, 173
Robert Snodgrass, Norwich, 6, 160

Forwards:
Robin van Persie, Manchester United, 10.4, 225
Rickie Lambert, Southampton, 7.6, 178

Bench:
GK:
Stuart Taylor, Reading, 3.8, 10
Defenders:
James Perch, Newcastle, 3.7, 51
Daniel Fox, Southampton, 3.7, 41
Forward:
Franco Di Santo, Wigan, 4.6, 102

Salaries for 15 players: 100 million

Points for 15 players: 2216

Note: Players designated as captain receive double points.

Robin van Persie played in all 38 matches, so his being captain for every game would have brought 450 points. Gareth Bale had a higher season fantasy point total; however, he missed four games through injury and suspension. So, van Persie's additional 225 points brings the season total for this team to 2441 points.

Here is what fascinates me: That total of 2441 points would only be #19 in the world fantasy rankings and a whopping 86 points behind the first place manager who had 2527. This shows the superb planning, research, guess work, and in some cases, blind luck by managers 1-18. The keys for them included picking the right player to wear the captain's armband each week and profiting from transferred players who increased their budget.

On a personal note, I don't think it is in the true spirit of good sportsmanship to have more than one team entered in the competition. That happened with one person in the Top 20 and you will see it throughout the table.