Best World Fantasy (Revised) Part 1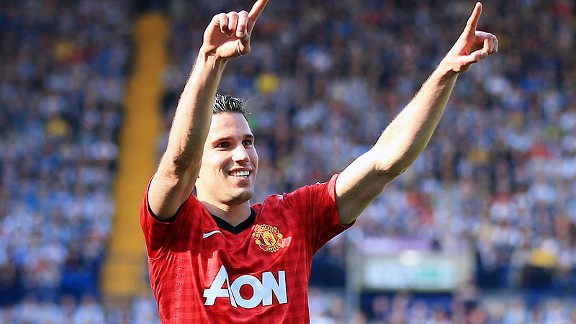 Richard Heathcote/Getty ImagesRobin van Persie was a constant on most fantasy teams this season.
Clarification is needed for the final results in the world fantasy Premier League competition. When it comes to awarding prizes there are always eligibility considerations for players, including location and age.
Earlier, I detailed the lineups of two teams: Short Pump Wednesday (SPW) and BTottenham (BT).

SPW claimed two prizes, one for 1st place Segment #1 and 1st place Overall. While BT finished with the second most points overall, eligibility issues gave the official Runner-up Overall honor to Randominators (R).
1st Place for Segment 2 went to UChiha Clan (UC).

Short Pump Wednesday: 2527

Short Pump Wednesday (SPW) was out of the gate big-time in double Gameweek 1. He had 106 points (including 48 from Captain Branislav Ivanovic) and never looked back. He had 1401 for Segment 1 and 1126 in Segment 2.

His opening day lineup had Tim Howard, Ivanovic, Benoit Assou-Ekotto, John Arne Riise, Juan Mata, Samir Nasri, Stephen Ireland, Scott Sinclair, Robin van Persie, Sergio Aguero, and Fernando Torres.

For Gameweek 38, SPW had Artur Boruc, Jose Enrique, Leighton Baines, Robert Huth, Captain Gareth Bale, Michu, Kevin Mirallas, Theo Walcott, Rickie Lambert, Robin van Persie, and Carlos Tevez.

SPW showed the importance of knowing when to pick up players and when to dump them. He had some eventual fantasy flops on opening day, including Assou-Ekotto, Riise, Nasri, Ireland, Sinclair, and Torres. They were nowhere to be seen on the last day of the season as he had picked up big fantasy producers Baines, Bale, Michu, Walcott, and Lambert. But even the best in the world can be stuck with dead weight on the last game of the season as was seen in suspended Rafael Da Silva, non-starters Boruc and Mark Bunn, mediocre James Tompkins, and French fizzle Moussa Sissoko. Because of that, SPW scored just 53 points on the final day of the season, barely enough to eke out a slim four-point victory for best in the world.

Randominators: 2510

R also had a big opening round in double Gameweek1. He had 94 points including 24 from Ivanovic and 20 from Captain Fernando Torres. His opening day lineup had Jussi Jaaskelainen, Ivanovic, Ian Harte, Vermaelen, Gareth Bale, Rafael van der Vart, Cazorla, and Eden Hazard, Pavel Pogrebnyak, Torres and Aguero.

R's final lineup showed he had wisely shed himself of Harte, Vermaelen, Pogrebnyak, Torres, Aguero, and he lost VdV to Hamburger SV in the German Budesliga. He had Jaaskelainen, Luke Shaw, Glen Johnson, Christopher Samba (who turned out to be worthless), Bale, Cazorla, Marouane Fellaini, Juan Mata, Captain Michu, Robin van Persie, and Dimitar Berbatov. He got Gareth McAuley's single point off the bench; however, he lost Rickie Lambert's seven and was stuck with out of the league Matthew Briggs. Gameweek 38 only brought R 55 points, but it was enough to hold off Palmy Pirates that lurked three points back.

Uchiha Clan: 1225 (Segment 2)

UC had a lineup to open Segment 2 of Jussi Jaaskelainen, Daniel Agger, Jan Vertonghen, Leighton Baines, Luke Shaw, Captain Eden Hazard, Juan Mata, Michu, Steven Gerrard, Luis Suarez, and Robin van Persie. That lineup with double games in the first week of Segment 2 brought 87 points (including Hazard's 38).

For Gameweek 38, the starting team for UC was Jaaskelainen, Vertonghen, Pablo Zabaleta, Andy Wilkinson, Agger, David Silva, Mata, Michu, Gareth Bale, Captain Daniel Sturridge, and van Persie.

UC was plagued with no transfers the last three weeks, which meant the manager had to carry Steven Gerrard, Agger, and fantasy flop Kenwyne Jones. In Gameweek 38, UC had an anemic 51 points, but still had enough points to be listed top of Segment 2 by 12 points. UC finished seventh in Segment 1

Next in Part 2: Sir John's reflections on his season.