Best World Fantasy: Part 2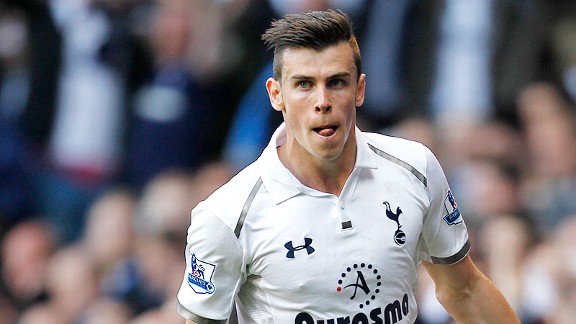 IAN KINGTON/AFP/Getty ImagesBy season's end Sir John pegged Player of the Year Gareth Bale as his Captain.
In Part 1, we looked at the teams that took top honors in ESPNFC's Premier League fantasy competition. What about your humble Fantasy Picks guy?

Each season, Sir John has shown improved numbers with his teams and this year there was more progress.

The season started extremely strong, with 104 points in Gameweek 1. This was a double game week and two Chelsea players returned huge points. Branislav Ivanovic had 24 points and Captain Frank Lampard was good for 36 points. Even Ryan Bertrand, came off the bench for six points when AVB did not play Jan Vertonghen.

The starting lineup to begin the season for Sir John's Lads had Michel Vorm, Ivanovic, Brede Hangeland, Vertonghen, Lampard, Shinji Kagawa, Yaya Toure, Gylfi Sigurdsson, Sergio Aguero, Wayne Rooney, and Pavel Pogrebnyak. Segment 1 produced 1,244 points and a rank of 473 with a 99.5% percentile standing. Sir John did not use saved transfers wisely and only had 88 points in the final two weeks.

Segment 2 was not as good with 1,072 points (97.2 percentile) and an eventual overall total of 2316, 99.7% and a ranking of 390.

The closing lineup had Artur Boruc, Ivanovic, Vertonghen, Luke Shaw, Theo Walcott, Kevin Mirallas, Captain Gareth Bale, Clint Dempsey, Juan Mata, Carlos Tevez, and Robin van Persie. Rickie Lambert's seven points and Emmerson Boyce's nine points were left on the bench.

Hindsight being 20/20, Sir John should not have disposed of Michu early. I got nothing from Carlos Tevez after Luis Suarez went carnivorous on Ivanovic. I was disappointed at the two times Dempsey was brought in, Yaya never did much, I thought Shaw would do better, bought Suarez too late, should have picked up Lampard at the end, and stayed with Pogrebnyak, Kevin Nolan and Hangeland too long. Best pickups were Bale, Mata, Santi Cazorla (also disposed of at the right time), and van Persie. The best drops were Rooney, Kagawa, Sirgurdsson, Bertrand, and Marouane Fellaini; however, I should have held on to Philippe Coutinho. If, if, if, and if only.

As the late Don Meredith once said, "If ifs and buts were candy and nuts, wouldn't we all have a Merry Christmas?"

August 18 -- come quickly!