Best World Fantasy 3: Part 1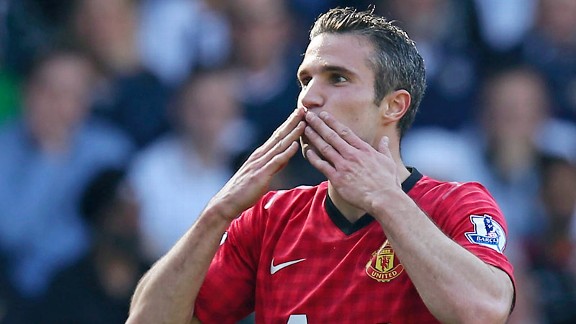 Matthew Peters/Man Utd/Getty ImagesManchester United's Robin van Persie appeared on most fantasy teams around the world.
With the August 18 kickoff for the next Premier League fantasy season 14 long weeks away, I hope the item below and others over the summer will help you get through the dreaded drought. In this piece and one for tomorrow, I will look at the top three fantasy managers in the world and the best manager for Segment 2. You'll see how they began the season or Segment 2, and what players they had at the end.

1. Short Pump Wednesday: 2527

Short Pump Wednesday (SPW) was out of the gate big-time in double Gameweek 1. He had 106 points (including 48 from Captain Branislav Ivanovic) and never looked back. He had 1401 for Segment 1 and 1126 in Segment 2.

His opening day lineup had Tim Howard, Ivanovic, Benoit Assou-Ekotto, John Arne Riise, Juan Mata, Samir Nasri, Stephen Ireland, Scott Sinclair, Robin van Persie, Sergio Aguero, and Fernando Torres.

For Gameweek 38, SPW had Artur Boruc, Jose Enrique, Leighton Baines, Robert Huth, Captain Gareth Bale, Michu, Kevin Mirallas, Theo Walcott, Rickie Lambert, Robin van Persie, and Carlos Tevez.

SPW showed the importance of knowing when to pick up players and when to dump them. He had some eventual fantasy flops on opening day, including Assou-Ekotto, Riise, Nasri, Ireland, Sinclair, and Torres. They were nowhere to be seen on the last day of the season as he had picked up big fantasy producers Baines, Bale, Michu, Walcott, and Lambert. But even the best in the world can be stuck with dead weight on the last game of the season as was seen in suspended Rafael Da Silva, non-starters Boruc and Mark Bunn, mediocre James Tompkins, and French fizzle Moussa Sissoko. Because of that, SPW scored just 53 points on the final day of the season, barely enough to eke out a slim four-point victory for best in the world.

2. BTottenham HK: 2523

BTottenham HK (TTHK) was not in the top three at the end of Segment 1 and had 1319 points, 82 fewer than SPW. He came on strong in Segment 2 with 1204 points.

His opening day lineup for the double game week had Joe Hart, John Terry, Alex Pearce, Glen Johnson, Ramires, Captain Juan Mata, David Silva, Kevin Nolan, Pavel Pogrebynyak, Sergio Aguero, and Olivier Giroud.

For Gameweek38, TTHK had Jussi Jaaskelainen, Leighton Baines, Jan Vertonghen, Robert Huth, Gareth Bale, Santi Cazorla, Captain Theo Walcott, Kevin Mirallas, Michu, Robin van Persie, and Carlos Tevez.

TTHK got rid of non-productive players from his opening day lineup, including Terry, Pearce, Ramires, Silva, Nolan (awful for most of Segment 2 until his final day hat trick), Pogrebynyak, and Giroud.

The world's runner-up had an even worse final game day than SPW, registering only 48 points. He went with Walcott as captain, while SPW arm-banded Bale. Bale had 18 and Walcott had eight and that gave SPW the title. TTHK's bench had six points.

3. Palmy Pirates: 2507

Palmy Pirates (PP) was left with no transfers the final two weeks of the season and he paid for it. His Segment 1 score was a lofty 1373, however, Segment 2 came in at 1134.

His opening day lineup for the double game week had Adam Federici, Thomas Vermaelen, Branislav Ivanovic, Brede Hangeland, Eden Hazard, Steven Gerrard, Scott Sinclair, Gareth Bale, Sergio Aguero, Nikica Jelavic, and Captain Fernando Torres.

For Gameweek 38, PP had Asmir Begovic, Leighton Baines, Jan Vertonghen, Christopher Samba, Michu, Bale, Theo Walcott, Captain Philippe Coutinho, Carlos Tevez, Robin van Persie, and Jordan Bowery.

PP posted 60 points for his final week, not nearly enough to overtake TTHK and SPW. Coutinho as captain returned 20 points, but PP was plagued with injured liability Moussa Sissoko, out-of-the-league Matthew Briggs, and the colossal failure in the large person of Christopher Samba. Three bench points came from Jos Hooiveld, but PP paid for carrying scrub Jordan Bowery much of the season. He had to start him on the final day (he played the final 16 minutes and got one fantasy point).

In looking at PP's opening day lineup, we see he jettisoned dead weights Federici, Vermaelen, Sinclair, Jelavic, and Torres.

Tomorrow: The prizes, Segment 2's winning lineup, and Sir John's reflections on his season.