Champions League Fantasy Final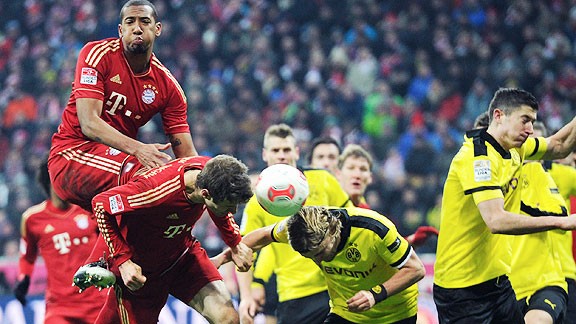 Lennart Preiss/Bongarts/Getty ImagesFantasy favorites such as Thomas Mueller, second left, Marcel Schmelzer, center and Robert Lewandowski, right, will make for a compelling Champions League final when Bayern Munich and Borussia Dortmund meet Saturday at Wembley.
When it comes to playing Champions League Fantasy, I am the Patron Saint of Mediocrity. That disclaimer should serve as a warning to those looking for guidance from me on Saturday's match between Bayern Munich and Borussia Dortmund at Wembley.

There are two features with the old game that I like; in forming your roster you don't have to carry two goalkeepers and five defenders, and in the scoring, four points are given for clean sheets. However, I don't like minus points given with the first goal and assists should be worth more than two points.

That said, at least we have a fantasy game to play one week beyond the end of the Premier League. Saturday's Champions League Final brings us one week closer to getting our life back on August 18 when the PL season begins.

Bayern Munich seems poised to win; however, on paper it looks as if it will be an entertaining match to watch. It's my opinion that Champions League offers the opportunity to see the highest level of football competition in the world, even more than the World Cup.

My fantasy team is weighted in favor of Bayern Munich with Manuel Neuer, Philipp Lahm, Thomas Mueller, Arjen Robben, Bastian Schweinsteiger, Franck Ribery, and Mario Gomez. Borussia Dortmund players are Marcel Schmelzer, Felipe Santana, Marco Reus, and Robert Lewandowski. Mario Goetze is questionable, so he is on the bench along with Dortmund teammates Neven Subotic and Roman Weidenfeller and Bayern's Dante.

The leading fantasy scorers at each position still in the competition are Mueller (79), Lewandowski (66), Lahm (39), and Neuer (37). I will put the armband on Mueller.

It will seem strange not to have Ronaldo and Messi in the final along with my favorite goalkeeper Gianluigi Buffon, who also will be watching on TV.

When the final whistle blows or a winner is determined by a shootout, I will likely find myself nestled in mid-table or near the bottom of my league. Outside the Premier League, in which I had a good measure of success, the only other international competition where I did well was in Euro 2012 when I came from behind for the final and shockingly won the ESPN Experts competition.

On Saturday, I don't look for that to happen again. Rather than pulling a Mozart, in all probability, I will once again be Salieri.