Gameweek 38 Fantasy Preview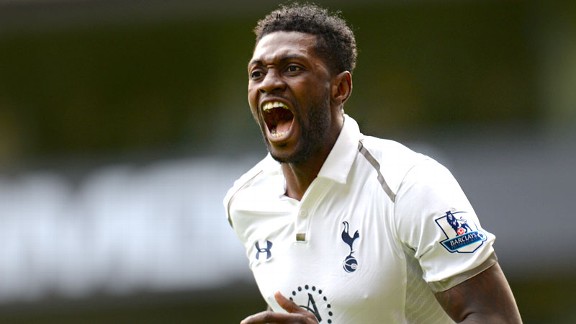 Shaun Botterill/Getty ImagesDespite his flaws, Emmanuel Adebayor is still valuable to Spurs.
Sunday, May 19
Tradition and precaution to keep competition fair have all ten matches the final day of the season beginning at the same time on Sunday. Fantasy managers can see the announced lineups for all twenty teams thirty minutes before Gameweek 38 locks.

Chelsea (21-9-7) vs. Everton (16-15-6)

After looking gassed and no goals or assists in his last four Premier League games, Juan Mata had two assists in the Europa league final victory. Eden Hazard is doubtful.
Frank Lampard's new one-year contract should see him start in front of the home faithful hoping he'll add to his record career goal count. Ramires is suspended. Oscar has three goals in his last four games. Demba Ba has gone dry and Fernando Torres, at least in Premier League play is... Fernando Torres.

This will be David Moyes' last game as Everton's manager. The emotion of Moyes' final home game was the week before and the team will finish sixth. Tim Howard and Leighton Baines have six clean sheets in the last eight matches and Kevin Mirallas had two goals the last time out. Marouane Fellaini had been linked to Chelsea. With no goals in seven matches, the Belgian will be out to impress. Message to management from a Chelsea supporter: DON'T SIGN THIS BLOKE!

Liverpool (15-13-9) vs. QPR (4-13-20)
Daniel Sturridge comes off a hat trick and six goals four matches. Phillippe Coutinho has two assists in his last three games. Pepe Reina, four clean sheets in six games.
QPR, dead last, will need a victory, a Reading loss and two points to climb out of the cellar.

Manchester City (23-9-5) vs. Norwich (9-14-14)
The Scarf is out, so who knows where the team's heads will be after the 0-2 win against Reading. Even with Mancini gone, Yaya Toure was still deployed deep.
Although the Canaries had four goals against lifeless WBA, the net won't be as inviting against City, which has had three straight PL clean sheets.

Newcastle (11-8-18) vs. Arsenal (20-10-7)
The Magpies are PL safe after an awful season. They will be up against motivated Arsenal, desperate to secure a Champions League berth. Theo Walcott scored his third goal in the last three games, Lukas Podolski got a brace, and after going six games with no goals or assists, Santi Cazorla's delivered four assists against Wigan. Olivier Giroud returns from suspension. Mikel Arteta is out injured.

Southampton (9-13-15) vs. Stoke (9-14-14)
The Saints survived their PL season and take on toothless and stingy Stoke, minus suspended Charlie Adam.
Rickie Lambert's last goal was six games ago.

Swansea (11-13-13) vs. Fulham (10-10-17)
Michu made a miraculous recovery and scored a lovely goal against Manchester United. Road kill Fulham is a soft opponent. Dimitar Berbatov broke a six-game goalless drought, but the Cottagers offer little else in attack.

Tottenham (20-9-9) vs. Sunderland (9-12-16)
Spurs are on a mission and their rescuer has been Emmanuel Adebayor. Passive for most of the past two games, Adebayor scored two goals and got an assist in the closing minutes. Gareth Bale, uncharacteristically, was mediocre in those games. Clint Dempsey looked terrific against Stoke with a goal and an assist and should start. Craig Gardner and Stephane Sessegnon are suspended for the Black Cats.

WBA (14-6-17) vs. Manchester United (28-4-5)
It does not get much worse than the Baggies looked against Norwich, losing 4-0. Romelu Lukaku, seemingly established as a legitimate threat has not scored in three games.
Emotion will be high for Sir Alex Ferguson's final game as manager. Wayne Rooney was not on the team sheet for the manager's final game at Old Trafford and, even with two years left on his contract Rooney is treading career water. Rafael is suspended.

West Ham (11-10-16) vs. Reading (6-10-21)
Big Sam's Hammers are comfy in 10th place with nothing to play for.
Reading and its manager Nigel Atkins prepare for a return to the Championship. The only incentive for the final match is avoiding a last place finish.

Wigan (9-9-20) vs. Aston Villa (10-10-17)
This had the makings of an important game; however, with Wigan losing to Arsenal on Tuesday, the Latics are relegated while Aston Villa pulled off a late season rush to survive. Villa will be without suspended Christian Benteke but Gabriel Agbonlahor and Andreas Wiemann are fantasy threats.
Arouna Kone has only two goals in his last seven matches.