Gameweek 37 Fantasy Preview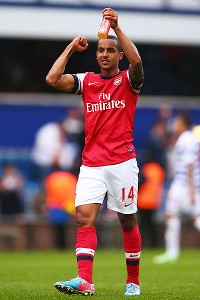 Clive Rose/Getty ImagesArsenal's Theo Walcott will be looking to finish the season with a goal-scoring flourish.
The Premier League returns to a 10-game week played over four days. Sandwiched in the round will be the FA Cup Final at Wembley Saturday between Manchester City and Wigan.
Both teams have regular PL games on May 14, so there will likely be rotation questions that fantasy managers need to consider.
You will only have one match to check announced lineups: the early game between Aston Villa and Chelsea May 11.
Saturday, May 11
Aston Villa (10-10-16) vs. Chelsea (20-9-7): Aston Villa is fighting for survival, while Chelsea is in roster-rotation mode having played Wednesday and looking ahead to the Europa League final in Holland on May 15 and final PL game May 19. Christian Benteke's hat trick against Sunderland was two weeks ago; same for Andreas Weimann and his goal. Brad Guzan's last clean sheet was in 2012. Gabriel Agbonlahor has three goals in his last two matches. Chelsea's Demba Ba is cup-tied but did not play against Spurs. Frank Lampard and John Terry also did not feature against Tottenham. Fernando Torres played well, so only Rafa Benitez knows who will be on the pitch Saturday. Juan Mata has not scored in his last 10 matches.
Sunday, May 12
Stoke (9-14-13) vs. Tottenham (19-9-8): Stoke has scored only 31 goals in 37 games and faces a team fighting for a Champions League spot. Spurs drew with Chelsea on Wednesday as Gareth Bale left his Superman suit at home. Other than a defensive brain-lock, Emmanuel Adebayor had a strong match at Stamford Bridge.
Everton (15-15-6) vs. West Ham (11-10-15): The game will invigorate an uninspired Everton, as they will be playing their first game knowing David Moyes is leaving to manage Manchester United next season. The Blues, with a PL-high 15 draws, are strong on defense and getting worse on offense. West Ham looked limp in its 0-0 draw against a bad Newcastle team.
Fulham (10-10-16) vs. Liverpool (14-13-9): Bland Fulham got a brace from Bryan Ruiz and still lost at home 4-2 to relegation dredge Reading. The Cottagers have lost four straight. Liverpool, after looking potent minus Luis Suarez, shot blanks at Everton in their derby and have nothing to play for. Steven Gerrard's shoulder problem ended his season two games early.
Norwich (8-14-14) vs. WBA (14-6-16): The Canaries are another anemic offensive team within the possibilities of relegation. WBA's Romelu Lukaku looked dangerous against Man City but could not score.
QPR (4-13-19) vs. Newcastle (10-8-18): This is the stinker of the week, enlivened only by the Magpies' possibility of joining the demoted Rangers. Newcastle is one of four relegation candidates.
Sunderland (9-11-16) vs. Southampton (9-12-15): This will be a high emotional game as the Black Cats will be without suspended Stephane Sessegnon and now Craig Gardner. John O'Shea rescued Sunderland with a goal against Stoke. Simon Mignolet and the Black Cats' defense have gotten better in past weeks. They are only three points clear of relegation but have superior goal differential over Norwich and Newcastle. Southampton's Rickie Lambert is in a goal-scoring drought, now five games and counting.
Manchester United (27-4-5) vs. Swansea (11-13-12): United's first game after learning Sir Alex Ferguson is retiring. The PL champs were in bench mode against Chelsea and are without suspended Rafael. It is anyone's guess who is wearing Wayne Rooney's kit. Whoever it is, he has not been the player from the past. Robin van Persie should start as he tries for the Golden Boot award. Swansea, even without Michu, recorded a gritty road result over Wigan.
Tuesday, May 14
Arsenal (19-10-7) vs. Wigan (9-8-19): Oliver Giroud is suspended and Theo Walcott is hot with two goals in his last two games. This will be Wigan's first game knowing Roberto Martinez is likely leaving for Everton. The Latics' PL life is on the line the next two games. Arouna Kone's goal-scoring has dried up. Wigan choked at home against Swansea and has now conceded more goals (67) than any PL team .
Reading (6-10-20) vs. Manchester City (22-9-5): Relegated Reading was loose at Fulham and has no pressure at home to Manchester City that clinched second place. We will see whom Roberto Mancini chooses for his starting XI three days after the FA Cup final.