Gameweek 37 Best Fantasy XI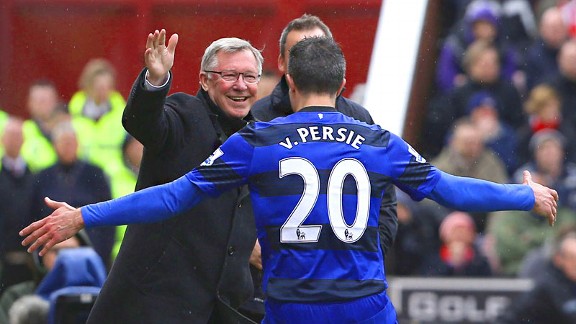 Matthew Peters/Getty ImagesRobin van Persie would like to gift the retiring Sir Alex Ferguson with a few more goals as the manager leaves Old Trafford.
There are just two weeks remaining in the 2012-13 Premier League season. What great excitement, controversy, accomplishments, and failures we have seen unfold since last August. And this week, Sir Alex Ferguson announced his retirement.

There is still the FA Cup final to be played Saturday night at Wembley. This will follow the lone Premier League match that day between Aston Villa and Chelsea. With Chelsea preparing for their Europa League final on the road on May 15, league game line-ups will be hard to predict and we will see how Roberto Mancini rotates his squad for the final and the game against Reading Tuesday night.

Here are the players that would seem to make up the strongest starting fantasy XI for Gameweek 37 (subject to change prior to the first kickoff).

Goalkeeper:
Tim Howard – Everton (home to West Ham)
David De Gea was the original choice here, but Anders Lindegaard could be preferred by SAF. Howard has five clean sheets in his last seven matches.

Defenders:
Jan Vertonghen - Tottenham (at Stoke)
Clean sheets have been sparse for Spurs; however, Vertonghen has scored four goals and Spurs need to be at their best in their final two matches.

Patrice Evra – Manchester United (home to Swansea)
It is hard to keep the number two fantasy defender out of this XI and it is Sir Alex Ferguson's final home match of his career.

Leighton Baines – Everton (home to West Ham)
If ever there was a clean sheet in the making, this is it and the top fantasy defender may get himself a goal off a free kick in David Moyes' final home game with the Blues.

Midfielders:
Designated captain: Gareth Bale – Tottenham (at Stoke)
Stoke is stingy conceding goals against most of the league and even though Bale looked very ordinary against Chelsea, he remains in a class by himself with ten goals and three assists in his last twelve games.

Juan Mata – Chelsea (at Aston Villa)
The heart of Chelsea all season long, Mata may take advantage of an Aston Villa team that has frequent defensive lapses while on attack. He has not scored in his last ten matches.

Theo Walcott – Arsenal (home to Wigan)
Two goals in his last two matches and no Olivier Giroud on the pitch seem to suggest Walcott will fill the onion bag for his team that is desperate for a Champions League spot.

Santi Cazorla – Arsenal (home to Wigan)
Chelsea's Eden Hazard was the original choice, but with Europa League rotation possibilities, Cazorla moves to the starting best XI and the chance to break his six-match scoreless drought.

Forwards:
Robin van Persie – Manchester United (home to Swansea)
The Dutchman had an off day against Chelsea but with 25 goals on the season figures to take advantage of Swansea that will be without Michu and an Old Trafford crowd high on emotion for SAF's final home game.

Daniel Sturridge – Liverpool (at Fulham)
Sturridge was awful against a strong Everton defense. The pickings will be easier at Craven Cottage for Sturridge who had three goals in two matches before sleepwalking his last time out.

Sergio Aguero – Manchester City (at Reading)
It was either Aguero or Carlos Tevez, but since Tevez was benched last game and City plays Wigan on May 11, Aguero gets the nod here.

Starting XI value: 93.3 million

Bench:
David DeGea – Manchester United
David Luiz – Chelsea
Pablo Zabaleta – Manchester City
Eden Hazard – Chelsea

Bench value: 30.8 million

Total player value: 124.1 million

Last week, with six teams playing two games, the Best Fantasy XI for Round 36 scored 92 fantasy points. Sir John's regular team managed 75.