Gameweek 35 Fantasy Preview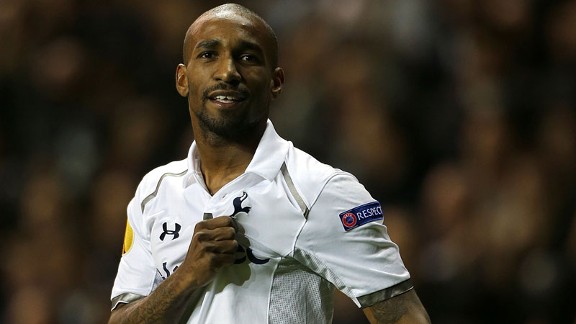 PA PhotosJermain Defoe broke his goalscoring drought last weekend
Saturday, April 27

Manchester City (20-8-5) - West Ham (11-9-14)
City's concentration will be on the May 11 FA Cup Final since a league runners-up spot seems almost certain. Carlos Tevez is in fine fantasy form. Sergio Aguero is available; David Silva is out and James Milner may return. City has given up the fewest goals (30) of any team, so defensive fantasy points look good against low-scoring West Ham that is secure in mid-table. West Ham's amazing Jussi Jaaskelainen is leading the goalkeeping ranks for fantasy points.

Everton (14-14-6) - Fulham (10-10-14)
Everton still has an outside shot at Europa competition. Marouane Fellaini's last league goal was March 2. Steven Pienaar was awful against Sunderland and Leighton Baines' error led to the goal that spelled defeat. Kevin Mirallas has cooled off. Tim Howard is back in top form.

After getting goals in four matches, Dimitar Berbatov is oh-for-four and playing passive. Bobby Zamora is suspended and Steve Sidwell is banned (again!).

Southampton (9-12-13) - WBA (13-6-14)
Rickie Lambert is oh for his last three. The Saints are secure in mid table, as is WBA. Romelu Lukaku has not scored in four games.

Stoke (8-12-17) – Norwich (8-14-12)
If ever there was a certain 0-0 outcome, it involves these two teams. In 66 games, they have combined for just 62 goals and 26 draws. Stoke is more desperate to win as they are only six points clear of relegation.

Wigan (8-7-18) – Tottenham (18-7-8)
The 18th-placed Latics are in danger of being the third doomed relegation team. Arouna Kone is about it for goals (10). Wigan can be tough in defense, however, Spurs are in form and Gareth Bale is torrid. Jermain Defoe broke his scoring drought and looks a much better option than Emmanuel Adebayor. Aaron Lennon could return. Tottenham have their eyes on the Champions League, while Wigan hopes for survival and an FA Cup miracle against Manchester City.

Newcastle (10-7-17) – Liverpool (13-12-9)
16th place Newcastle is hardly safe and other than through Papiss Cisse, they have gone limp for goals. Moussa Sissoko is now anonymous, while his French compatriot Yoan Gouffran just ended a seven-game scoring drought.

Daniel Sturridge is the main man now that Liverpool will be without their banned biter. Sturridge had a goal and an assist against Chelsea. Steven Gerrard has been quiet for three games and the league has figured out Philippe Coutinho.

Sunday, April 28

Reading (5-9-20) – QPR (8-12-17)
The two worst teams in the PL each have 24 points with QPR a one-point goal differential advantage. Peee-youuu!

Chelsea (18-8-7) – Swansea (10-12-11)
Chelsea won in Switzerland on Thursday - more Europa "stuff" for a tired team. Juan Mata is dragging his tired body around and still getting assists. He has not scored a goal in eight games but was held out for most of the Basel game. Eden Hazard is going well. Branislav Ivanovic will not be the main entree for the Swans. David Luiz scored the winner against Basel and will be dangerous as well as John Terry and Frank Lampard, who played on Thursday. Wonder whether they will be fit on Sunday?! Demba Ba probably starts.

Swansea's Michu has two goals in three matches in a team comfortably in 9th place and looking for a top ten finish.

Arsenal (18-9-7) – Manchester United (27-3-4)
Santi Cazorla looks spent, Theo Walcott disinterested, Mikel Arteta may recover from an injury, and Oliver Giroud is suspended. Once-hot Gervinho has not played in two matches. Look for Lukas Podolski to try and keep the third-place Gunners in the Champions League hunt.

It will be an emotional day for Robin van Persie as he returns to the Emirates with the PL champions and has scored five goals in three games. Wayne Rooney looks uncertain where he fits. Shinji Kigawa may be in for more PT. Man Utd has a league high 78 goals.

Monday, April 29

Aston Villa (8-10-16) – Sunderland (9-10-15)
17th place Aston Villa could pull even with the Black Cats in the table. After four goals in four matches, Christian Benteke has gone oh-for-two. After being crushed in the first half, Villa held Man United scoreless after the break and face a revived Sunderland and its animated new manager Paolo Di Canio. Stephane Sessegnon has two goals and an assist in his last two matches, both clean sheet victories at Newcastle and home to Everton.