Gameweek 35 Best Fantasy XI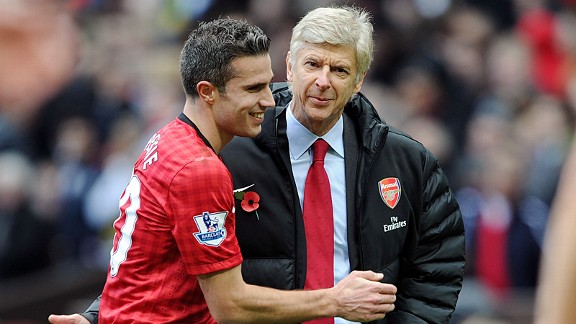 David Price/Getty ImagesManchester United's Robin van Persie will face former manager Arsene Wenger and Arsenal this week in the Dutchman's return to The Emirates.
With an unlimited budget and no transfer restraints, you should be able to have big fantasy point totals each week; however, as you will read at the end, Sir John's regular team came close to his Best Fantasy XI for Gameweek 34. Here are the picks for Gameweek 35:

Goalkeeper:
Tim Howard, Everton (Fulham home)
Three clean sheets in the last five matches for the American and road-weakling Fulham make Howard the best choice for the week.

Defenders:
Leighton Baines, Everton (Fulham home)
The number one fantasy point defender, Baines will be out to atone for his error that led to Everton's shock loss at Sunderland.

Jan Vertonghen, Tottenham (at Wigan)
Clean sheets have been sparse for Spurs; however, they are a team on a mission and the Belgian has 42 fantasy points in his last five matches.

David Luiz, Chelsea (Swansea home)
Luiz is in good form and has 35 fantasy points in his last five games.

Midfielders:
Juan Mata, Chelsea (Swansea home)
Goals have dried up for Mata; however, his assists are evident on the second highest scoring Premier League team.

Gareth Bale, Tottenham (at Wigan) Designated captain.
Back from injury, stronger than ever and nine goals and three assists in his last nine games played, Bale now has a healthy Jermain Defoe to take away some defenders.

Steven Gerrard, Liverpool (at Newcastle)
With Luis Suarez likely gone, Gerrard will be more involved in the attack and is a great penalty-taker.

Eden Hazard, Chelsea (Swansea home)
A goal and an assist in his last two matches, the Belgian is in good form.

Forwards:
Carlos Tevez, Manchester City (West Ham home)
Four goals in his last seven games and healthier than Sergio Aguero make Tevez a good pick.

Christian Benteke, Aston Villa (Sunderland home)
A massive game for Aston Villa's survival hopes. Benteke came close to scoring against Manchester United; he should find the net against the Black Cats. Now two games without a goal, the Belgian had four goals in four games before that.

Robin van Persie (at Arsenal)
After a ten-match goalless drought, van Persie now has five goals in three games and will be eager to score against his former club.

Bench
Brad Guzan, Aston Villa
Branislav Ivanovic, Chelsea
Jose Enrique, Liverpool
Kevin Mirallas, Everton

Budget for the Best XI: 93.6 million
Budget for the fifteen players: 120 million

Last week's Best Fantasy XI scored 80 points. Sir John's regular team registered 79.

Next week is the big double game week for six teams and I will have a piece on fantasy strategy considerations.