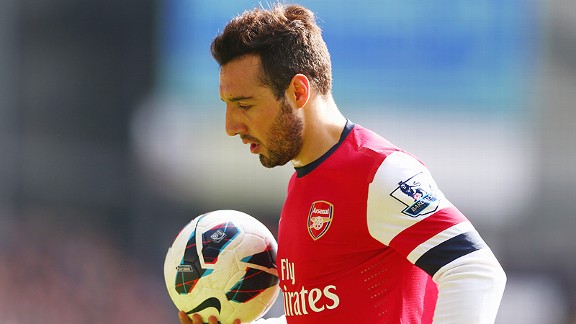 Michael Steele/Getty ImagesSanti Cazorla is a good bet to pull down mutliple points for fantasy managers.
Round 33 presents the greatest opportunity for points this season since Arsenal, Fulham, Everton, West Ham, and Manchester United all have two matches. Tottenham and Swansea will not play in the week.
For fantasy managers who have conserved their transfers, here are possible players who could return big points with two bites out of the fantasy apple. A note of caution: roster rotation does not guarantee the players will be used twice.
Arsenal
Home against Norwich City April 13 and Everton April 16.
Santi Cazorla, (192 points, 8.2 salary) is the most attractive fantasy player on Arsenal. Theo Walcott (157, 8.3), struggling with an injury has not had a goal in seven games, but is expected back. Mikel Arteta (120, 7.5) starts, but other than PKs, is not a good fantasy point guy.
Olivier Giroud (118, 7.6) will start and has a goal and an assist in his last three matches. Gervinho (66, 6.9) is back in form with two goals and three assists in three games. Goalkeeper Lukasz Fabianski (13, 4.8) is bright in goal. Defender Laurent Koscielny (81, 5.9), with a new contract is in fine form but Per Mertesacker will be suspended for one of the games with a red card against WBA. Tomas Rosicky's (20, 5.3) brace was a freak event.
Fulham
At Aston Villa on April 13, Chelsea home April 17.
Goalkeeper Mark Schwarzer (134, 6.7) has had three clean sheets in his last six games plus a penalty kick block.
Defender Sascha Riether (104, 5.8) is on a good run with clean sheets and an assist. Brede Hangeland (79, 5.5) starts all the games, but is not the goal threat he once was. No midfielders are recommended. The big addition would be Dimitar Berbatov (136, 8.3) who has five goals in his last six games.
Everton
QPR at home April 13, at Arsenal April 15.
Midfielders Marouane Fellaini (151, 7.9) and Steven Pienaar (125, 6.7) return from suspension. Fellaini is a good choice, Pienaar is a fantasy risk. Kevin Mirallas (80, 6.3) has three goals and two assists in his last four games.
West Ham
At Southampton April 13, home Manchester United April 17.
Andy Carroll (67, 6.3), back after being unable to play against his parent club could return dividends in the two matches. Jussi Jaaskelainen (140, 6.3) is the second best point producing GK. James Collins (71, 5.2) was terrific against Liverpool.
Manchester United
Stoke home April 14, at West Ham April 17.
Like Roberto Mancini, Sir Alex Ferguson's starting XI is seldom set in stone; however, Wayne Rooney (120, 8.7) and Robin van Persie (177, 9.9) are probably going to play both games. GK David DeGea (105, 7.5) has the best string of recent clean sheets in the PL. Patrice Evra (143, 8.3) is the second highest scoring defender. In midfield, Man Utd. is stocked with question marks for the two games, including Shinji Kagawa (75, 7.4), Antonio Valencia (72, 6.7) and worthless "Stepover Junior" Nani (34, 6.5).
With Tottenham and Swansea idle in Gameweek 33, fantasy managers may consider transferring out Gareth Bale (194, 10.2) and Michu (201, 7.7). However, there will be a double game week in Round 36 for those teams and Wigan. Chelsea and Manchester City also have double game weeks TBA.
Transfer considerations for players with one game and high value, injury issues, and/or mediocre form include: Branislav Ivanovic (6.9), Ashley Cole (7.3), Aaron Lennon (7.5), Fernando Torres (7.4), Daniel Sturridge (7.3), Steven Fletcher (7.2), Jermain Defoe (6.3), and Emmanuel Adebayor (6.2). A dilemma involves Michu, who is back in scoring form. Swansea has a killer run of games after they play Southampton in Round 34 (not that the Saints will be easy; however, the Saints ain't Man Utd, Chelsea and Man City).
Managers may want to hold on to Michu, bench him in GW33, play him in GW 34 and then transfer him out for the rest of the season, even if you miss a double week with him in a game against Wigan in Round 36.
Swansea hosts Fulham on the final game of the season and if you have transfers left, you could bring him back for that one.
Notes: Hold off on transfers until at least Friday to see about injury updates. You also can get a preview of announced lineups for five matches that start at the same time on Saturday.