Gameweek 31 fantasy preview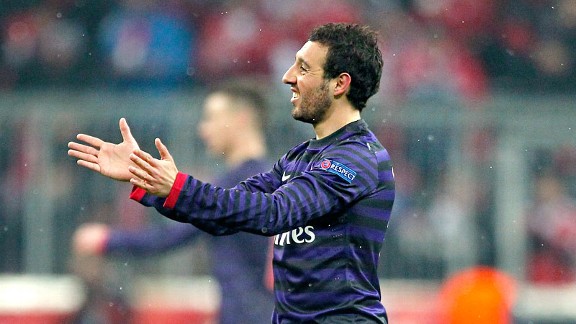 Boris Streubel/Getty ImagesWith Jack Wilshere and Theo Walcott out, Santi Cazorla will have to come up big for the Gunners this week.
It would appear the only big casualty for Premier League players during the international break was Theo Walcott who was hurt during training with the England team.

- Walcott ruled out with groin injury
- Video: Wilshere and Walcott missing for Arsenal

The early game means only two announced lineups before the week locks.

Saturday, March 30 (Early game)

Sunderland (7-10-13) -- Manchester United (24-2-3)

The Black Cats only real offensive player, Steven Fletcher is out with an injury, so look for a clean sheet from Manchester United. Robin van Persie's PL scoring form is off (he had two international goals on Tuesday) while Wayne Rooney's is on (he also scored on Tuesday). Nani is due back. More importantly, so is Paul Scholes.

Arsenal (14-8-7) -- Reading (5-8-17)

Big fantasy news is Walcott is likely out until April 6 with a groin injury. Jack Wilshere is still sidelined. Santi Cazorla could have a big day and is worth the fantasy armband. A Gooner clean sheet is a strong possibility.

Nigel Atkins is Reading's new manager but not likely to inspire the 19th place Royals to points at the Emirates. His team has the league's worst road record (1-2-12).

Manchester City (17-8-4) -- Newcastle (9-6-15)

Sergio Aguero is due back as is Vincent Kompany. Carlos Tevez is scoring goals again.

Newcastle's stinky, injury-riddled season has them in 13th place. Papiss Cisse shows a return to form, Moussa Sissoko is good, but has lost some of his "wow" factor.

Southampton (7-10-13) -- Chelsea (16-7-6)

Rickie Lambert (13 goals) is the Saints' main man. Defender Luke Shaw is out.

Frank Lampard leads Chelsea in goals (12). Juan Mata, with 10, has been quiet but orchestrates beautifully. The most in-form player is Eden Hazard. The mystery is whom will Rafa Benitez start up front? Gary Cahill and Ramires are out injured. Chelsea is closing in on second place Man City.

Swansea (10-10-10) -- Tottenham (16-6-8)

Michu's 15 goals are impressive, but he has only two in the last 12 games. Gareth Bale will start and is a good bet to get back to his goal scoring. Jermaine Defoe cannot find the net. Emmanuel Adebayor is a liability. Clint Dempsey has had two long road trips for United Staes. Aaron Lennon is due back.

West Ham (9-6-14) -- WBA (13-5-12)

The 14th place and falling Hammers hope to have Kevin Nolan (broken toe) back. They are in a funk while WBA will again unleash Romelu Lukaku who is on 13 goals (four in his last four games) and counting. The eighth-place Baggies are the biggest surprise of the season.

Wigan (7-6-16) -- Norwich (7-13-10)

Arouna Kone (nine goals) should score against the Canaries who have let 46 goals come in their cage. On the other hand, Wigan has conceded 56 goals. The question is who at Norwich can find the net?

Everton (12-12-5) -- Stoke (7-13-10)

Marouane Fellaini and Steven Pienaar begin two game bans: Fellaini for 10 bookings and Pienaar for getting his second red. Jan Mucha has filled in well for injured Tim Howard. Stoke has only scored 27 goals (just nine on the road) in 30 matches. The two teams have a combined 25 draws. A 0-0 tie would not surprise.

Sunday, March 31

Aston Villa (7-9-15) -- Liverpool (12-9-9)

Christian Benteke (13 goals) and Andreas Wiemann (six) are in good scoring form and even Gabriel Agbonlahor has two goals in two games. Liverpool was awful in their last PL game and will look to bounce back big. Luis Suarez leads the league in goals (22), but is one yellow card away from a two-match suspension. Philippe Coutinho may add to the goals conceded by Villa, now at 56 in 30 games.

This could be a 3-3 game with Villa goalkeeper Brad Guzan tired from two U.S. matches.

Monday, April 1

Fulham (9-9-11) -- QPR (4-11-15)

Dimitar Berbatov, two goals in his last two games (11 for the season), seems ready to go three-for-three. QPR has scored the fewest goals (26) in the league but have had recent goals from Spurs loaners Andros Townsend and Jermaine Jenas.

Note: Chelsea-Manchester United have their FA Cup replay April 1. Some regulars likely will be rested either for Saturday's matches or for this game.