Gameweek 31 Best Fantasy XI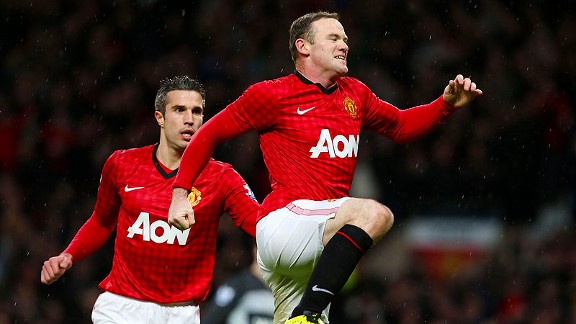 Matthew Peters/Man Utd/Getty ImagesThe recent fantasy form of Wayne Rooney, right, is a step ahead of Manchester United teammate Robin van Persie.
You would think by having no budget or transfer restrictions, you could pick 11 players who would return big numbers each week -- not so, as you will see at the end of this piece.

For Round 31, my best fantasy XI is as follows:

Goalkeeper

David DeGea, Manchester United (vs. Sunderland away): A clean sheet in the making.

Defenders

Patrice Evra, Manchester United: Ditto on the clean sheet and perhaps a goal after Evra did not play in the last PL game.

Per Mertesacker, Arsenal (vs. Reading home): Not much offense coming toward the Gunners' defense.

Brede Hangeland, Fulham (vs. QPR home): Fulham is stingy; the Rangers have scored only 26 goals in 30 games.

Midfielders

Gareth Bale, Tottenham (vs. Swansea City away): Recovered from his ankle injury and tummy ache.

Santi Cazorla, Arsenal (Captain): Should be in full control of the offense.

Philippe Coutinho, Liverpool (vs. Aston Villa away): The Reds are out to redeem themselves after leaving a steamer on Southampton's pitch.

Frank Lampard, Chelsea (vs. Southampton away): Lamps is primed to prove management wrong and he takes (and makes) PKs.

Juan Mata, Chelsea: Mata is ready to get back in goal-scoring mode. Possible choice for captain, but I went with Santi.

Forwards

Luis Suarez, Liverpool (vs. Aston Villa away): Leading PL scorer would love to win the Golden Boot and goals are in the offing in this game.

Wayne Rooney, Manchester United: Rooney is in top form, looking better than van Persie.

Bench: Mark Schwarzer, Fulham; Leighton Baines, Everton; Steven Gerrard, Liverpool; Pablo Zabaleta, Manchester City; Robin van Persie, Manchester United

Gameweek 30 had two surprising no-shows. Evra and Branislav Ivanovic did not feature, so only Zableta's bench points counted (from now on, I will include another bench defender). With Bale as captain, my "best" XI turned in a weak performance with just 43 points. Mata and Rooney were high-point men with seven each.