Whatever happened to ...?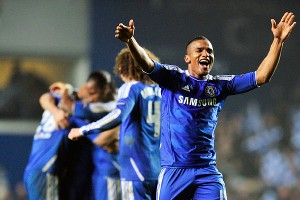 Glyn Kirk/AFP/Getty ImagesChelsea's Florent Malouda has fallen off the fantasy radar, but he is laughing all the way to the bank.
The resumption of Premier League action Saturday cannot come quickly enough. In the meantime, to help all who need a PL fix, Sir John offers a look at eight players who have basically dropped off the PL map. Some were touted as instant stars, others remain in a prolonged funk, while one who was a huge fantasy favorite just a few years ago is now in exile.

Raheem Sterling, Liverpool midfielder, 85 fantasy points, 5.4 value
The 17-year-old burst on the scene with predictions of instant stardom. He has played 23 matches, scoring two goals withtwo assists, but has not been in the lineup the last four games and only one in the last seven. Manager Brendan Rodgers says Sterling is "burned out."

Wilson Palacios, Stoke midfielder, 4 fantasy points, 4.4 value
The 28-year-old Honduras international has played in only four games with zero goals and zero assists. He had modeled kits at Wigan and Spurs and now his career is rotting under Tony Pulis.

Samir Nasri, Manchester City midfielder, 53 fantasy points, 5.1 value
Fourteen starts and six games as a sub with one goal and three assists make for a fringe player. In 2010-11, Nasri had ten goals with Arsenal, but jumped to Man City for the big money and big promises. Leaving the Emirates was a huge mistake. The temperamental Frenchman is just not as good as he thinks he is.

Ashley Young, Manchester United midfielder, 53 fantasy points, 7.0 value
Young is the most overrated fantasy player in the PL with a value that defies belief. He has played 17 games and has zero goals and three assists. In 2010-11, Young had seven goals and 10 assists at Aston Villa and managed six and seven at United last year -- but this season? Ick!

Luis Nani, Manchester United midfielder, 34 fantasy points, 6.5 value
A Ronaldo wannabe, 'Step-Over' has one goal and two assists in 10 PL games. In two previous seasons, Nani notched 17 PL goals and 24 assists. He's only 26, but for much of the season has a mailing address of SAF's Old Trafford doghouse.

Suso, Liverpool midfielder, 23 fantasy points, 5.5 value
Twelve games, zero goals and zero assists for the 19-year-old who has not played in nine straight PL matches. The Spaniard is a big deal for Liverpool's Under-21 side and a lousy deal for PL fantasy managers.

Florent Malouda, Chelsea midfielder, 0 fantasy points, 5.5 value
Once a must-have fantasy player, the 32-year-old Frenchman scored 25 PL goals and had 12 assists in 2009 and 2010 for Chelsea, but now trains with the academy players. Treated like rubbish by AVB and ignored by RDM and Rafa Benitez, all transfer attempts to peddle him from Stamford Bridge failed. Malouda's contract is up at the end of the season. You could say "Poor Florent"; however, his final year's salary while in exile is nearly five million pounds.

Javier Hernandez, Manchester United forward, 61 points, 6.7 vaslue
Chicharito has been in 15 PL games and has eight goals and two assists, but has only played in two of the last eight PL games. He last scored on New Year's Day, a brace against Wigan. Assignments with the Mexican national team involving long travel and having Robin van Persie, Wayne Rooney, and Danny Welbeck on the team make it tough to get playing time. Can you imagine how impotent offensive teams like Stoke City and Sunderland would love to have him in their lineup?