Gameweek 30 Fantasy Preview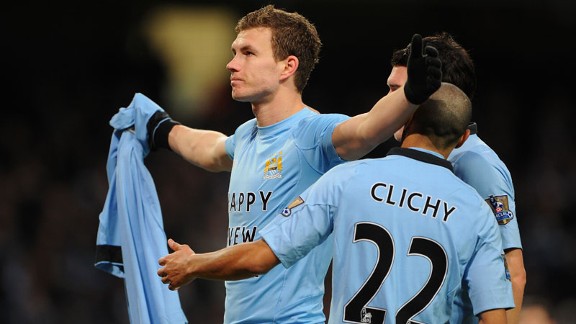 PA PhotosEdin Dzeko will take his place in City's starting XI
There are six Saturday matches and five on Sunday; however, fantasy managers can only check one game for announced lineups before the week locks.

Saturday, March 16

(Early game) Everton (11-12-5) – Manchester City (17-8-3)

Tim Howard is out injured; Jan Mucha had a good first match subbing. Marouane Fellaini (3 goals and one assist in his last four PL games) was booed off the pitch for his uninspired FA Cup performance.

Carlos Tevez has two goals in his last two PL games and an FA Cup hat trick. He also faces time in the slammer for off-the-field drinking-driving issues and has a hammy question. Sergio Aguero is out until March 30 with a knee injury. Leading City scorer, Edin Dzeko will start.

Aston Villa (6-9-14) – QPR (4-11-14)

Christian Benteke scores against weaker teams, so look out. Andreas Weimann is primed.
Harry Rednapp likes Loic Remy (two goals in two games) and will go with Andros Townsend and Jermaine Jenas in hopes of upping QPR's stinky offense (only 24 goals in 29 games). Julio Cesar is due back.

Southampton (6-10-13) – Liverpool (12-9-8)

Rickie Lambert has no goals in two games. Artur Boruc has been sensational in goal, but Liverpool's attack makes a clean sheet unlikely.

Luis Suarez, still on eight yellow cards, has five goals in three matches. Stewart Downing has two goals and an assist in three games. Phillippe Coutinho is brilliant but was pulled before 60 in favor of Joe Allen, but Allen needs shoulder surgery. Pepe Reina may return in goal.

Stoke (7-12-10) – WBA (13-4-12)

GK Asmir Begovic's value has plummeted to 5.4. Not helping the Potters' defense or offense, Robert Huth is suspended. Goals are not likely for Stoke. Romelu Lukaku has four goals in his last three PL games.

Swansea (10-10-9) – Arsenal (13-8-7)

Michu has only three goals in his last ten PL games. GK Michael Vorm is in top form.
Jack Wilshere is out injured, Theo Walcott has no goals and two assists in his last four PL matches. Santi Cazorla three goals in three matches. Lukas Podolski is out injured. Arsenal, out of Champions League play, is desperate for a top four finish.

Manchester United (23-2-3) – Reading (5-8-16)

On paper this is the rout of the week. United has 68 goals in 28 games while Reading has conceded 56 in 29. Robin van Persie is seven points behind Suarez and only one goal and two assists in his last five PL games. Wayne Rooney had roasted Canary his last PL game (a goal and two assists). Shinji Kagawa comes off a hat trick. David De Gea could get his fifth straight clean sheet; likewise Patrice Evra.

Pavel Pogrebnyak is suspended. Reading is a miserable 1-2-11 on the road and even with a new manager the Royals will be flushed down the loo.

Sunday, March 17

Sunderland (7-9-13) – Norwich (7-12-10)

Steven Fletcher, Simon Mignolet and eight other guys about sums it up for the Black Cats, now in 15th and catching whiffs of the drop zone. Norwich is not much better. Grant Holt had his PK saved in last week's goalless draw.

Tottenham (16-6-7) – Fulham (8-9-11)

Six goals and one assist in six games for Gareth Bale and more are likely against a bad Fulham road team. Aaron Lennon will have a late fitness test. Gylfi Sigurdsson is getting starts. Jermain Defoe is goalless in his last eight PL games and looks out of sync. Clint Dempsey returns; Emmanuel Adebayor scored Thursday as Spurs advanced in Europa in Italy Thursday. Good news for Gareth Bale holders—he did not play.
Dimitar Berbatov has two goals in two games.

Chelsea (15-7-6) – West Ham (9-6-13)

Juan Mata, John Terry & Fernando Torres scored in Chelsea's home Europa result. An armband for Frank Lampard (4 goals in 6 games) could bring big fantasy rewards as he searches for his 200th club goal. Demba Ba could erupt against his former team.
Kevin Nolan is due back from injury.

Wigan (6-6-16) – Newcastle (9-6-14)

Wigan's relegation struggle will have Arouna Kone looking for goals.
Papiss Cisse has two goals in the last three matches and teams well with Moussa Sissoko. Cisse's stoppage time goal gave the Magpies a Europa win on Thursday. Hatem Ben Arfa has a late fitness test. Yohan Cabaye went out injured in Italy and defender Fabricio Coloccini is out.