Gameweek 28 Fantasy Preview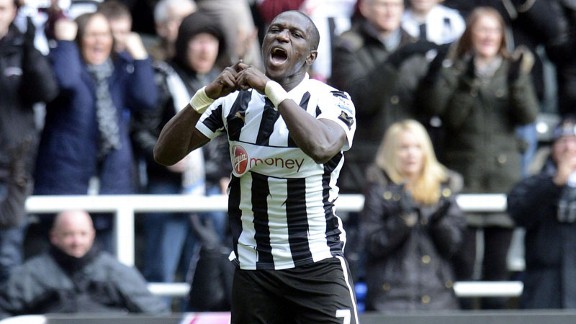 PA PhotosNewcastle's Moussa Sissoko has 3 goals and 2 assists in his 4 games
All twenty Premier League teams are in action and fantasy managers have a chance to see the announced line-ups for seven of the ten matches before the week locks.

Saturday, March 2

Chelsea (14-7-6) - WBA (12-4-11)
The Blues are troubled and filled with dissension. Listless in their loss at Manchester City and berated by Rafa Benitez, Chelsea comes off an FA Cup victory against Middlesbrough. Demba Ba, who started against City, seems tentative and Fernando Torres looks hopeless. Juan Mata is the heart of a tired team. WBA, in seventh place, will sorely miss Romelu Lukaku who is on loan from Chelsea and cannot play.

Everton (10-12-5) - Reading (5-8-14)
Everton will be pleased with the return of Victor Anichebe. Marouane Fellaini, with only two goals in his last 12 games faces a late fitness test. The Blues had an easy 3-1 victory on Tuesday to advance in the FA Cup. Reading is fighting for survival and continues to bleed goals, having surrendered 51. Pavel Pogrebynyak is suspended.

Manchester United (22-2-3) - Norwich City (7-11-9)
Top of the table Man United are likely will be without injured/rested Robin van Persie in anticipation of a March 5 match against Real Madrid. Wayne Rooney will carry the offensive load along with Chicharito and Danny Welbeck. United has filled opponents nets 64 times. Phil Jones is out injured. Paul Scholes could return. Grant Holt (five goals) is about it for the draw-prone Canaries.

Southampton (6-9-12) - QPR (2-11-14)
The Saints could be without Luke Shaw. Rickie Lambert is rewarding fantasy managers with goals and assists. Last place Rangers are desperate for three points and beyond belief in goal-scoring futility, with only 19 goals in 27 matches.

Stoke City (7-12-8) - West Ham United (8-6-13)
Mid-table Stoke City, treading water in 10th place and minus suspended Robert Huth, meet Big Sam's Hammers, a team now in 14th and in a slide. Kevin Nolan and Mark Noble are injured. Andy Carroll scored a penalty goal against Spurs.

Sunderland (7-8-12) - Fulham (8-8-11)
Sunderland's improved defense meets a bad road team. Dimitar Berbatov scored at home, but can Fulham dent the Black Cat's defensive resolve?

Swansea City (9-10-8) - Newcastle (8-6-13)
This may be a high-scoring game, with the Swans coming off their League Cup championship. Michu, held out against Liverpool will be looking for more goals. Newcastle's Moussa Sissoko has three goals and two assists in his four games with the Magpies and Papiss Cissie is in sync. Yohan Cabaye and Fabricio Coloccini are expected back but Hatem Ben Arfa is iffy and Tim Krul is out.

Late game
Wigan (6-6-15) - Liverpool (10-9-8)
Arouna Kone is on fire and the DW will be a tough place to get points for the Reds who are on the positive side of .500 for the first time this season. Philippe Coutinho looked excellent in his last game and may be the midfield force Liverpool needs to partner with Steven Gerrard. Luis Suarez is a goal-scoring machine. However, he is two yellow cards away from a two-game ban. Daniel Sturridge has an injury concern.

Sunday, March 3

Tottenham (15-6-6) - Arsenal (13-8-6)
This is the week's marquee game. Spurs are undefeated in their last eleven games and Gareth Bale is the hottest scorer in the PL (six goals in his last four games). Jermaine Defoe may be back from injury. Clint Dempsey is out for two weeks. The teams have scored a combined 100 goals. Tottenham is third in the table, Arsenal fifth.
Santi Cazorla comes off a brace. Theo Walcott has been held to one assist in his last three games. Abou Diaby could return from injury.

Monday, March 4

Aston Villa (5-9-13) - Manchester City (16-8-3)
Christian Benteke is about the only positive for Villa, a team that has scored just 26 goals in 27 matches and is in 18th place. Second place Manchester City is 12 points behind the leader and has scored 57 goals. Gareth Barry and Vincent Kompany could feature. Sergio Aguero has been close on several goal attempts. This should be the game he gets his goals. Yaya Toure was deployed in an attacking role. Fantasy managers hope for the same in this game.