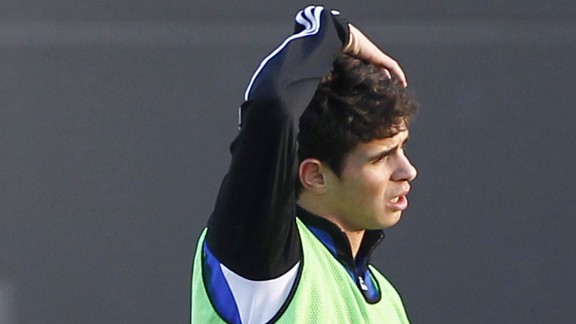 PA PhotosOscar has struggled for consistent league form this season
Player roles are big factors in fantasy point success, especially when it comes to midfielders. Those who are assigned to hold things in check are less likely to score or get assists. You never expect many points from players like Aaron Ramsey, Bradley Johnson, Gylfi Siggurdson, Jean Beausejour and John Obi Mikel, who last scored a Premier League goal shortly after the London Bridge was shipped to Arizona. Just kidding on Mikel, however, those five midfielders have played in 117 PL games this season and scored only two goals (Siggurdson finally got one against West Ham on Monday).

You wonder why other midfielders who seem capable of scoring can't occasionally venture into the box to be more of an attacking threat.

Some of those players include:

Antonio Valencia, Manchester United: 64 points, 11 shots, no goals, 4 assists, 6.7 value

Valencia seemed to have opened up his game, but is now content or under instruction to deliver the ball to others. You would think he could score more with defenders concentrating on Robin van Persie and Wayne Rooney.

Mikel Arteta, Arsenal: 103 points, 16 shots, 4 goals, 2 assists, 7.5 value

Three of Arteta's four goals have been penalties. He is capable of strong shots but rarely pulls the trigger.

Yaya Toure, Manchester City: 112 points, 50 shots, 5 goals, 3 assists, 7.6 value

Ok, ok, so he scored on Sunday against Chelsea. I carried Yaya in my team for a while, but gave up on him because of his reluctance (or orders from Roberto Mancini) to play in a more forward position. He has a high number of shots, but most of them are long range. If he continues to be deployed up front, he will be dropped from this list.

Oscar, Chelsea: 78 points, 37 shots, 1 goal, 4 assists, 6.7 value

The 21-year-old Brazilian has goal on his mind at all times, however, he is often overpowered by defenders. He has done better in cup competitions outside the Premier League and given time, the league goals may come. For now, something is missing.

Jack Wilshere, Arsenal: 56 points, 11 shots, no goals, 3 assists, 6.3 value

Seemingly fully recovered from his injury, and capable of splendid distribution, Wilshere remains a poor fantasy investment. Fantasy managers can't expect much from a player who has taken only eleven shots.

Moussa Dembele, Tottenham: 81 points, 20 shots, 1 goal, 3 assists, 5.7 value

Dembele is a physical presence who can intimidate the opposition, however, in the Spurs scheme of things, he is not the player he was at Fulham. Message to Andre Villas-Boas: check the video of Dembele's late rocket goal against Lyon that gave you the Europa League victory.

Sebastian Larsson, Sunderland: 92 points, 18 shots, 1 goal, 1 assist, 5.5 value

Good looks do not translate into big points. For all the success he had in the past from corners and set pieces, Larsson often disappears in games.