Best Everton XI under David Moyes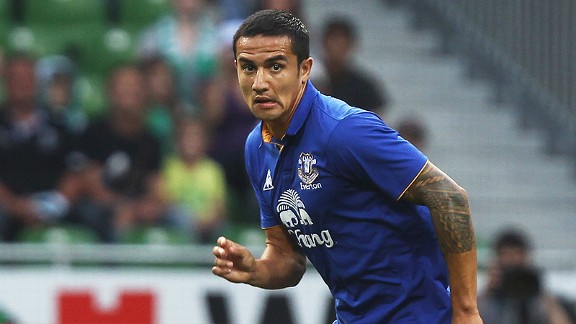 Martin Rose/Bongarts/Getty ImagesAlways an aerial threat, Tim Cahill was one of the best during David Moyes' tenure at Everton.
This Sunday sees David Moyes take charge of Everton for the 518th and final time. During his 11 years at Goodison, plenty of players have passed through the club. Therefore, as Moyes prepares to pack his bags, this seems a suitable time to select the best XI to feature under his management.

- Howard backs Moyes successor

The Nearly Men: Howard; Neville, Jagielka, Lescott, Valente; Mirallas, Carsley, Gibson, Osman; Ferguson, Yakubu.

The XI:

Nigel Martyn

Despite several goalkeepers occupying the sticks under Moyes, Tim Howard and Nigel Martyn are the only serious contenders. For his greater consistency, Martyn just edges out the current number one.

Many thought Martyn over-the-hill when he signed in 2003. Fortunately, for Everton and Moyes, the veteran keeper was a resounding success. Previously described by Moyes as his best signing, few could challenge that assessment; Martyn kept 36 clean sheets in 99 appearances.

Seamus Coleman

Acquired for £60,000 from Sligo Rovers, the Irish fullback is the finest example of a manager able to shop on meagre resources. Initially used in midfield, Coleman has made the right back position into his own of late.

Always a threat in attack, the biggest transformation is defensively. Possessing the useful asset of recovery pace, Coleman has improved his positioning and awareness to seal his place as the most complete right back of the Moyes era.

Joseph Yobo

Capable of unbelievable mistakes (some of them had to be seen to be believed) Yobo may seem an odd choice ahead of Phil Jagielka or Joleon Lescott. However, the Nigerian was a formidable defender at his best and the first player signed by Moyes.

Strong in the air, sharp in the tackle and with pace to burn, Yobo made over 250 Everton appearances and matched a club record. During the 2006-07 campaign, the centre back played every second of Premier League football, a feat last achieved by Kevin Ratcliffe in 1987.

Sylvain Distin

Signed to replace Joleon Lescott, several questioned the decision to spend £5 million on a player over 30. Moyes dispensed with his usual transfer policy to buy Distin and it proved an exception worth taking.

Earlier this season, Distin became the first foreign outfield player to make 400 Premier League appearances. Much like Yobo, Distin possesses strength, pace and aerial ability. Named the player's player of the season in 2011-12, Distin recently signed a new contract keeping him at Everton until 2014.

Leighton Baines

Indispensable at present, Baines struggled to break into the side upon his arrival. After initially playing a secondary role, the England fullback has thrived. Baines is a key player and not just in defence; the former Wigan man is set to end the season as the most creative player in the Premier League.

Unlike most attacking fullbacks, Baines is equally adept in defence. When the season ends, the guitar-loving fullback is the one player that Everton must retain.

Mikel Arteta

A bargain in every sense of the word, Arteta arrived from Real Sociedad in January 2005. Beginning his footballing education at Barcelona, his ability was never in doubt and Evertonians were fortunate to witness the Spaniard at his peak.

Before his 2009 ligament injury, Arteta was the finest player to grace Goodison in decades. Making the magical seem routine, Arteta could fill any midfield position and a best Moyes XI would not be complete without the San Sebastian native.

Marouane Fellaini

Wasted in the advanced role, Fellaini makes this team for his performances in central midfield. Overcoming disciplinary issues, the Belgian has dominated midfield almost single-handedly at times.

Who could forgot the Cruyff turn past Craig Bellamy at Goodison, a turn that capped one of the best individual performances of the Moyes era. Unfortunately, without Europe, the chances of Fellaini remaining at Everton appear slim and whoever replaces him has big shoes to fill.

Thomas Gravesen

The ultimate definition of mercurial, Gravesen had the ability to infuriate and dazzle. The Dane was at his best prior to his misguided Real Madrid move; the Spanish giants thought the man with the tackling finesse of a wrecking ball was a holding midfielder.

Previously subjecting fans to infrequent glimpses of his ability, Gravesen finally delivered in the months leading up to his Spanish jaunt. A key figure in driving Everton towards a Champions League place, the midfield maniac eventually repaid the faith shown in him.

Steven Pienaar

Enjoying his second spell at the club, Pienaar has consistently delivered on the pitch. Forming a terrific left-sided pairing with Baines, the duo account for the majority of chances created in this current side.

Continually contributing chances, goals and assists, the former Ajax man is fully deserving of his place. Not content with his attacking talents, Pienaar has a feverish work rate; one that puts many defensive players to shame.

Tim Cahill

As promised when joining from Millwall in 2004, Cahill gave everything in his 278 Everton appearances. Although able to fill several positions, the spring-heeled Australian found his home in the advanced role.

A constant scourge of neighbours Liverpool, the New York player now classes himself as an Evertonian. Turning late penalty area dashes into an art form, Cahill ended his Goodison career with 68 goals, countless impressions on the club record books and a belated, well-deserved send-off last week.

Wayne Rooney

A somewhat divisive choice, Rooney gets the nod due to his ability and a lack of genuine competition. Rooney made just 77 Everton appearances; his inclusion merely cements this as the problem position. Whatever the reason, Moyes failed to fill the goal-scoring void for a sustained period at Goodison.

Bursting onto the scene with that goal against Arsenal, Rooney made several key contributions in the 2002-03 season. The highlight being his solo run and goal at Leeds, which gave Everton a first league win at Elland Road for 51 years.