Goodbye Tim Cahill, and thank you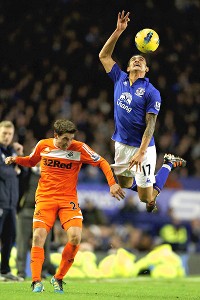 Matthew Lewis/Getty ImagesTim Cahill's aerial ability was one of his hallmarks during his Everton career. Cahill is now with the MLS's New York Red Bulls.
Everton visit Stamford Bridge on Sunday for the final game of the season. For the visitors, the match is largely irrelevant, aside from a final farewell for David Moyes, with Everton unable to improve on sixth place. For Chelsea, Champions League football is in the bag (baring a spectacular turn of events) and the pressure is off.

As uncertainty shrouds his future, Frank Lampard can expect a rousing reception after booking his place in Chelsea folklore. The midfielder has overtaken Bobby Tambling in the club's scoring stakes and has 203 goals from 607 Chelsea appearances, notching a good percentage of those against Everton. Evertonians can afford themselves a wry smile should he depart in the summer.

Similarly, as Chelsea fans prepare to salute a legendary attacking midfielder on Sunday, Everton did likewise after dispatching West Ham. The post-match headlines belonged to Moyes and Phil Neville, but the returning Tim Cahill stole their thunder.

Denied a proper goodbye after a red card in his final Everton appearance last May, the supporters were finally able to acknowledge Cahill and his impact on the Moyes era. Giving everything in his eight years at the club, Cahill easily justified his £1.5 million transfer fee. Eventually, once he settled in, his stellar performances made a mockery of the fee and the Australian will go down as one of the best Moyes signings.

Arriving from Millwall in 2004, Cahill declared it "a dream come true" and explained how he would "work for the full 90 minutes and give everything, regardless of whether we are winning 2-0 or losing 2-0." True to his word, it was a promise kept in each of his 278 Everton appearances.

Just like the departing manager, Cahill was unable to mark his Everton tenure with a trophy. However, at the risk of history forgetting him, the record books will show the impact of Cahill in a blue shirt. Only Duncan Ferguson (60) has more than Cahill's 56 Premier League goals for the club, and no midfielder can better his return of 31 Premier League headers.

The aerodynamic Aussie also holds Everton's post-war record for Merseyside derby goals (five), the best in the league since the days of Dixie Dean. Featuring prominently during the European tours of recent years, Cahill is level with Tim Howard, Colin Harvey and Brian Labone for most European starts in a blue shirt (19).

In terms of positions, the former Millwall man was versatile, possibly to a fault, featuring in several roles. Behind the lone striker was his most notable role, but there were also stints in central midfield, attack and even the odd outing on the flanks.

Playing behind the striker brought the best out of Cahill, now playing with New York in the MLS. Capable of finishing well with either foot, the prodigious aerial ability set him apart. Near the end, injuries and prolonged misuse as a striker damaged the impressive goals-to-game ratio; one such lean spell consisted of a 34-game goal drought, but Cahill returned a more than respectable 68 goals from 256 starts.

Not just a player, Cahill has transformed into an Everton supporter over the years. Before the first Merseyside derby of the season in October, Cahill tweeted an image of himself with an Everton shirt and wrote "This is more than just a jersey; it is a way of life".

Plenty of modern footballers are mercenary-like in their approach to football, favouring bank balances above all else. Cahill is different; he understands what the club means to the fans and even refers to himself as an Evertonian.

After an initial spell on the sidelines in 2004, his eventful debut was a sign of things to come as Cahill managed a match-winning goal and a red card against Manchester City. There were the overhead kicks at Bolton and Chelsea, the decisive goal at Sunderland, the last-gasp header in stoppage time at Manchester City and the salmon-like leap at Wigan; the list is endless.

On the off chance any of those memories have elapsed, each of his 68 Everton goals are available here. The departures of Phil Neville, Moyes and Cahill mark the end of an era at Goodison. Now is the time to say goodbye, Tim Cahill, and thank you. Those Goodison corner flags have not been the same since his departure.