European dream dies at Sunderland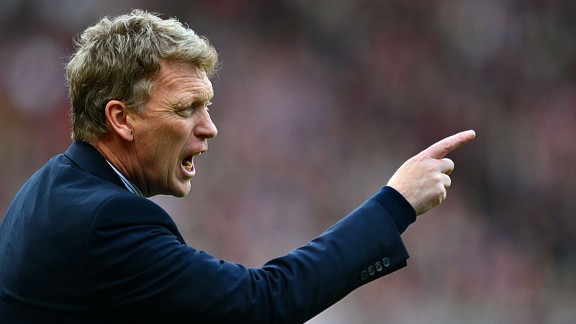 PA PhotosDavid Moyes barks orders from the touchline at the Stadium of Light
Everton will fall short of Europe this season. For an explanation, look no further than this insipid performance and the reasons behind it. Able to raise their game against the sides in the upper echelons, Everton continually fall short when expected to win. A lack of killer instinct and a wafer-thin squad have finally taken their toll on this European push.

Fresh from the hard-earned point at Arsenal, Everton were looking to extend their hoodoo over Sunderland. Unbeaten in 19 meetings heading into this, the Blues also boasted an eight-match unbeaten run at the Stadium of Light, winning five and drawing three, with clean sheets in each of the five wins.

Both records crashed and burned here thanks to a lifeless display from a tired team. Showing two changes from midweek, one enforced, the other by choice, Everton began slowly and progressively worsened.

Stand-in captain Phil Jagielka joined the injured list, as the ankle gash sustained against Reading reopened in midweek. Taking his place, John Heitinga displayed the ring rust that often plagues him after a spell on the sidelines. Fellow returnee Leon Osman captained the side as Ross Barkley made way. The youngster unfortunate after his promising midweek showing.

In midweek, Moyes favoured the bold option and started Barkley. Here, with Osman fit again, Barkley returned to the bench. After giving youth a chance in midweek, the swift return of Osman implies the midweek choice was the exception and not the rule.

After the committed endeavours of midweek, Everton fans expected more of the same. How wrong they would be, this was Everton at their worst. Lethargic throughout, the Toffees were a shadow of the team on show this season. From the lax tempo to the powder-puff tackling in midfield, too many players failed to turn up.

Tim Howard was one of the few to emerge with any credit; the American making key saves in his bid to keep Everton afloat. Elsewhere, Sylvain Distin defended well and Marouane Fellaini put his fellow midfielders to shame in his attempt to restore parity.

The lack of an alternative plan is often a criticism of David Moyes and it showed again here. When up against it, changes appear rehearsed; there is an unsettling inevitability to them, as though the actual match has no influence on them.

Already losing the midfield battle, the removal of Darron Gibson and the introduction of Nikica Jelavic only made matters worse. Gibson succumbing to a thigh injury was a blow, but the decision to change formation was a puzzling one. Reverting to 4-4-2, the change merely ensured Fellaini worked overtime; Osman remained a passenger alongside him.

Then came the other changes, Barkley replaced Osman, Steven Naismith replaced Victor Anichebe (another who picked up an injury). Naismith appears almost a token change. Warming the bench throughout the season, Bryan Oviedo must be tearing his hair out. Impressing in his fleeting appearances, the continual ignorance of him is baffling since alternatives flatter to deceive.

The European chase emphatically ended, Everton must ensure as high a finish as possible. While inconsequential for many clubs, the prize money for league places is invaluable to an impoverished club such as Everton.

Failing to strengthen in January, Everton have spurned their strongest Champions League chance in years. Needing to kick on and improve the squad, the window quickly descended into a Keystone Cops guide to transfers, as moves failed to materialise. Left with only pride to play for in the coming weeks, Everton have only themselves to blame.