Barkley offers hope as Everton travel to Sunderland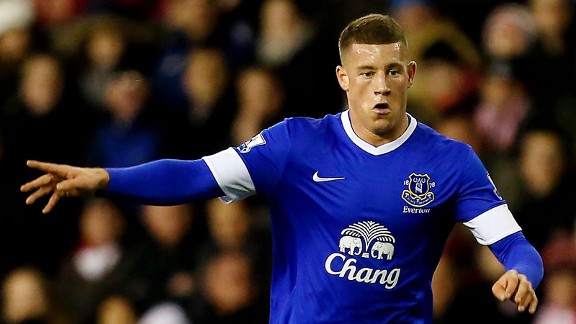 Paul Thomas/Getty ImagesPromising youngster Ross Barkley has all the makings of a number 10 for Everton.
As the dust settles on a pulsating goalless draw at the Emirates, European football looks agonisingly out of reach for Everton. To stand a realistic chance, the Toffees needed six points against Tottenham and Arsenal. Victory over both was ideal; victory over one was a necessity. Unfortunately, though not for a want of trying, Everton left North London with successive draws.

- Coleman: Neville inspiring top-four push

In a world where everything runs smoothly and wishes come true, Everton would win each of their remaining matches, secure Champions League football and watch their competitors crumble. Regrettably, we do not inhabit such a world and the reality is much less rosy. Instead, Everton fans face 450 minutes of potentially nerve-shredding football and, with trips to Anfield and Stamford Bridge still to come, the Blues look set to fall short of Europe once more.

There is, however, one small mercy for David Moyes and his men. Firmly established as the outsiders in the European race, the pressure has evaporated, the shackles have loosened, and the players are enjoying their football as they relish the challenge of attempting to break up the Premier League hierarchy. The recent inclusion of Ross Barkley is testament to that. Tending to favour the experienced conservative options, it is refreshing to see Moyes place his trust in a talented youngster.

Had his second half shot curved a few inches to the left, the comparisons with former Goodison protégée Wayne Rooney would be ongoing. Rooney announced himself to English football thanks to a match-winning goal against Arsenal and Barkley was fractions away from replicating that.

Delivering his most disciplined performance to date, Barkley provides much optimism for the future. Despite the largely successful use of Marouane Fellaini in an advanced role this season, Everton lack a recognised number 10 capable of dictating play; early signs suggest Barkley fits the bill more accurately.

Growing in confidence as the match wore on, Barkley began to drop deeper, looking to create openings for his teammates. Displaying an assured passing range, good spatial awareness and strength belying his youthful age, Barkley has the potential to feature regularly in the closing weeks of the season.

Should a recent groin problem continue to sideline Leon Osman, Barkley ought to retain his place for the trip to Sunderland on Saturday. Buoyed by their derby day demolition of Newcastle, Paolo Di Canio will have his team fired up for the visit of their 'bogey' team.

Since taking the Everton job in March 2002, Moyes has held an alarming hex over the North East side. In 18 meetings, no Sunderland manager has defeated DMoyes with the former Preston boss recording 13 wins and five draws. In fact, the streak dates back further with Walter Smith also recording a win, a win that means Everton are unbeaten in 19 against Sunderland.

Excluding cup matches, the Moyes record against Sunderland stands at 11 wins, four draws and zero defeats. Nonetheless, even with the impressive recent record, Everton are facing a different beast this time around. Breathing new life into his Sunderland side, Di Canio is unlikely to let the statistics affect his players.

With both sides needing the points, albeit for contrasting reasons, the stage is set for an attacking encounter. With the two sides meeting 33 times since their last goalless draw, a Boxing Day clash at Goodison Park in 1983, the statistics point towards goals on Saturday.