Everton must shed inferiority complex in upcoming away games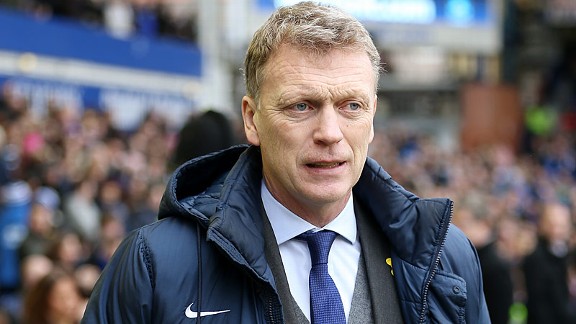 Clive Brunskill/Getty ImagesDavid Moyes' Everton begin a tough stretch with a visit to White Hart Lane on Sunday.
Whisper it quietly, but Everton are finding their form at the opportune moment. Home games against Reading, Manchester City and Stoke have returned three consecutive Premier League wins for the first time since January 2010. Enhancing their already exemplary home form, Everton have gained 33 points at Goodison Park with only Manchester United (42) and their aforementioned city rivals (36) gaining more points at home.

- Howard, Jagielka committed to the cause

Boasting the third-best home form in the Premier League, Everton must transfer this winning mentality into away matches, starting with the trip to White Hart Lane on Sunday afternoon. As well as Tottenham, Everton are still to visit Arsenal, Liverpool and Chelsea this season.

On paper, those last three matches often send shudders down the spine of an Evertonian. Since joining in 2002, David Moyes is winless in Premier League matches at those grounds. Gripped with fear, unable to transfer the attacking intent shown at Fortress Goodison, the team appear to suffer an inferiority complex, a complex that began in the dark days of Walter Smith.

Glance through the record books and the bleak picture is complete. The last Old Trafford win came in the inaugural Premier League season (August 1992), the Blues are winless at Chelsea since November 1994, Anfield was last breached in September 1999 and Arsenal are unbeaten at home to Everton since January 1996.

During the early years of Moyes' reign, inferior players were a plausible reason for the continual failure against the top sides. Nevertheless, with the squad improving over the years and the club signing a higher calibre of player, a lack of ambition soon felt more prominent than any quality differential.

Attempting to wriggle free of the shackles of inferiority, there are positive signs of change in recent fixtures. Although still without an elusive win at the original 'Sky 4' (Arsenal, Chelsea, Liverpool and Manchester United), a well-earned Old Trafford draw last May has shown the way forward. While the race for fourth gathers pace, Everton require this bolder approach; draws are simply not good enough.

Shorn of the attacking talents of Steven Pienaar and Marouane Fellaini for Sunday, the Blues will also need to call on the fighting spirit shown in recent matches. Overcoming the odds and a numerical disadvantage to topple Manchester City, similar qualities remained for the hard-fought win over Stoke City last week.

Too often adopting the safety-first containment approach, the Toffees cannot afford to sit back in these testing away fixtures. Placing faith in an unreliable defence would be a major risk and the old adage of 'attack is the best form of defence' rings true for this current side.

Seemingly falling for the 'plucky little Everton' and 'punching above their weight' tags coined within the media, it is high time that Moyes and his players distanced themselves from those underdog tags. Seeking to beat the best, Everton have to fashion greater belief as they chase European football this summer.

Heading into these away fixtures, it is imperative that this newfound approach prevails. Fall into the old traps, revert to the familiar cautious style and Everton risk drowning their European hopes in an instant.

Possessing the strongest squad of Moyes' tenure, Everton no longer have the excuse of working with lesser players. Capable of beating the beat, a point underlined by the home form this season, the team need to remove all lingering traces of this inferiority complex. Previously worn like a second skin, such a lack of self-belief should not have a place at Goodison Park.