Frustrating break may benefit Everton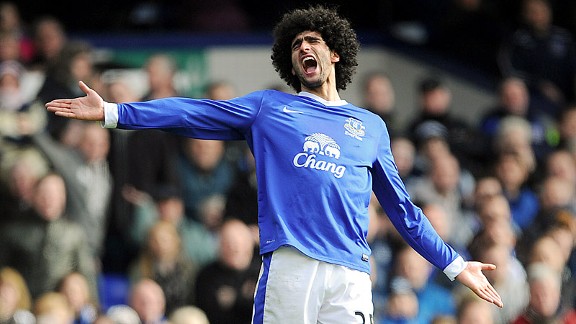 Michael Regan/Getty ImagesEverton will have to make do without Marouane Fellaini when they face Stoke.
International football is a sure-fire way of grinding any momentum into dust. Fresh from their dominant showing against Manchester City, you can bet the Everton players wanted to get straight into the next match against Stoke.

Instead, the eager players faced another of these tiresome international breaks. The weekdays drag for supporters as they pine for the return of club football. While these breaks are often frustrating, especially when it comes to viewing the infuriatingly outdated methods of England, this breather could benefit Everton.

- Jagielka: Everton not out for revenge

Several leg-weary players were able to rest, others lacking match practice found playing time and the injured players moved closer to fitness. Without the influential Steven Pienaar and Marouane Fellaini for the next two matches, this imposed break allows the others to recharge and refocus.

The loss of Fellaini is an obvious blow. However, given the events of December's corresponding fixture, the absence of Fellaini may be a blessing in disguise. Unable to rise above the Stoke provocations, a riled-up Fellaini does more harm than good. Ryan Shawcross will testify to that.

After his goal-scoring return against Manchester City, Nikica Jelavic looks set to fill the Fellaini void. David Moyes rarely shifts from his trusted split-striker formation so expect one of Jelavic or Victor Anichebe to play slightly deeper when Stoke have possession.

Perhaps the bigger loss, due to his left-sided link-up with Leighton Baines, is the absence of Pienaar which is always a major disruption for Everton. Fortunately, the two players likely to feature in his absence featured for their countries this week.

Playing 72 minutes as Costa Rica lost to the United States, Bryan Oviedo also completed the full 90 minutes in a 2-0 win over Jamaica. In spite of a frustrating restriction to fleeting cameos, Oviedo has shown promise when called upon.

Nevertheless, Naismith is the one expected to start against Stoke. An unused substitute in the defeat to Wales, Naismith played the full match as Scotland slipped to defeat in Serbia. Although displaying a solid work rate, there are still serious question marks over the Scottish international. Yet to show any of the attributes associated with an attacking midfielder, his continual use on the right side of midfield is baffling.

Elsewhere, Baines and Leon Osman gained additional England caps but neither found themselves overly exerted and Kevin Mirallas played a total of 44 minutes for Belgium. The sparing use of the three is a boost for Everton as the players recharge for one final European push.

Seamus Coleman began both of the Republic of Ireland fixtures and the fullback is carving out a regular place at both club and international level. Others benefitting from the break include defensive duo Tim Howard and Phil Jagielka. Sidelined through injury, the international week allows the pair to move towards a return.

Finally, heading into Saturday, Everton have to change their recent plan of attack in this fixture. Winning just one of the last seven against Tony Pulis, the Toffees have developed a bad habit in past meetings -- trying to beat Stoke at their own physical and direct game.

Needing to approach the match in the right manner, Moyes and his men must be bold and stick to their own style. Being dragged into a physical match is the last thing Everton can afford. Lacking the players for a battle, previous lessons and past warnings require heeding if the Blues are to improve their strong home form.