Three of the best under David Moyes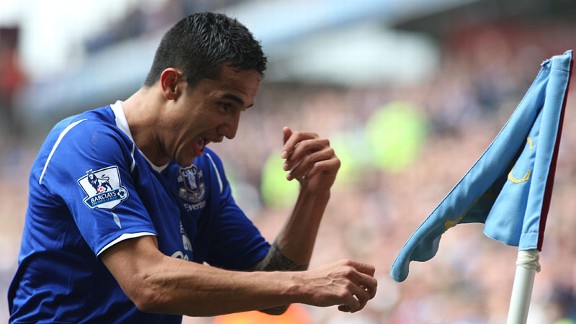 PA PhotosTim Cahill embodied David Moyes' knack for securing bargains from the lower leagues in England
Recently passing the 11th anniversary of his appointment, David Moyes has seen plenty of comings and goings at Goodison Park. Almost 180 players have passed through Everton since his 2002 arrival with around £260 million changing hands in the process.

Underlining his sharp eye for a bargain, the net spend under Moyes is approximately £10.5 million (that equates to less than £1 million a season). Continually honing his managerial skills, the former Preston boss has turned working on a budget into an art form.

One or two aberrations aside, Moyes has spent wisely and unearthed several gems at knockdown prices. Trawling through the array of players used, while attempting to pass the laborious international break, this seems as good a time as any to share my top three signings of the Moyes era:

Mikel Arteta

A bargain in every sense of the word, Arteta arrived from Real Sociedad in January 2005. Initially on loan, the midfield playmaker signed for £2 million when the 2004-05 campaign ended. Beginning his footballing education at Barcelona, his ability was never in doubt. Nevertheless, prior to his arrival at Everton, the Spaniard was in danger of squandering his abundant potential.

Before the pace-robbing, energy-sapping ligament injury of 2009, Arteta was the finest player to grace Goodison in several decades. Making the magical seem routine, the midfield man quickly rose to the status of fan favourite. After more than 200 appearances and 34 goals, an emotional Arteta left for Arsenal in August 2011.

Nigel Martyn

More than a few raised eyebrows greeted the signing of Nigel Martyn in 2003. Relegated to third choice at Leeds United, many believed 37-year old Martyn had seen better days. Proving the doubters wrong, the former England goalkeeper was a resounding success at Goodison.

In terms of consistency, Martyn is the only keeper to come close to filling the large gloves of Neville Southall. Unfortunately, after three impressive seasons, injury curtailed his playing career.

A persistent ankle injury forced Martyn into retirement, as Everton prepared terms on a new deal for the 40-year-old. Previously described by Moyes as his best signing, only a few players could challenge that assessment with Martyn notching 36 clean sheets in 99 appearances.

Tim Cahill

Over the years, David Moyes has successfully plucked players from the lower leagues and Tim Cahill remains his finest acquisition to date. Arriving from Millwall, Cahill embodied the spirit of the team; if you asked nicely, the Australian would probably run through a brick wall for Everton.

Another bargain buy, costing just £1.5 million, Cahill chipped in with numerous memorable goals in his eight years under Moyes. Departing for New York Red Bulls in the August transfer window, the midfielder left with 68 goals from 256 starts.

Perhaps his most notable achievement in a blue shirt was his impact on the Merseyside derby. Scoring five league goals against Liverpool, Cahill boasts the best league goalscoring return against Liverpool since the days of Dixie Dean.

Players such as Leighton Baines, Steven Pienaar and Sylvain Distin almost made the list, but the named trio have the edge due to consistency and quality. So, there you have it, those are my top three signings of the Moyes tenure. Some may agree, plenty will disagree but then isn't that the beauty of the game?