Mucha warrants place as Howard closes on return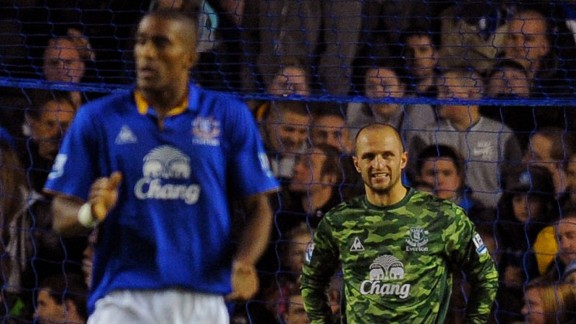 EmpicsJan Mucha has overcome the Chelsea error that brought derision
Recent Opta statistics highlighted the problems facing Everton, who, by using the fewest players and the least substitutes, have to rely on a small overworked group throughout the campaign.

As a result, the starting eleven is easily second-guessed. Aside from the intriguing and competitive battle between Nikica Jelavic and Victor Anichebe, the rest of the team is almost a formality.

Goalkeeper is one of the positions sealed off with Tim Howard easily claiming the number one spot since joining the club. Prior to his recent back injury, Howard started 210 consecutive league games; the American falling two appearances short of the club record held by Neville Southall. Performing consistently, Howard has relegated his understudy, Jan Mucha, to just 10 appearances since the Slovakian signed in July 2010.

Regularly called upon for cup fixtures, Mucha performed adequately, aside from one match that looked set to be the death knell for his Everton career. A hazardous blunder against Chelsea saw confidence in Mucha evaporate. Howard remained in goal for FA Cup ties and Mucha had only the occasional League Cup tie for comfort.

On the back of the Chelsea match, the error snowballed and the mere mention of Mucha's name resulted in snorts of derision from supporters. Becoming something of a comedic figure, ironic cheers greeted the completion of simple tasks. This sardonic treatment was the tip of the iceberg and Mucha became the obvious scapegoat when Leeds toppled Everton in the League Cup.

The downside to the continual overlooking of Mucha is the lack of pressure on Howard. Earlier in the season, with Howard desperately out of form, there was an unwillingness to use Mucha. Lacking the threat of replacement, Howard continued to flounder. Ironically, the former Manchester United player had begun to rediscover his form, just as this back injury struck.

With Howard sidelined, David Moyes had no choice and Mucha had to start in something other than a League Cup tie. There were early signs of rust, though, that is somewhat understandable for a man averaging two or three appearances a season. Close to a clean sheet on his league debut, the replacement keeper was also one of the few players to escape from Wigan with any degree of respect.

Beginning nervously against Manchester City, Mucha looked to distribute the ball quickly while his team-mates wanted the ball cleared downfield. After sorting out the crossed wires, the stand-in keeper grew in stature during the match. After making several important second half saves, Mucha ensured Everton recorded a first clean sheet in nine matches.

Now, the dilemma facing Moyes is whether to stick or twist; does he restore his number one, as Howard nears a return to fitness, or does he keep faith with Mucha. The Slovakian deserves his chance after performing admirably for the most part and spectacularly against Manchester City.

In spite of the constant criticism, Mucha has a clear edge in two prominent areas. Boasting accurate set piece distribution and more composure in open play, Mucha is always looking for a player in space and the opportunity to roll the ball into feet. Howard could certainly learn from his counterpart's distributing skills as Mucha looks to start counter-attacks whenever possible

Sharper with his distribution, Mucha also outshines Howard on one-on-ones; this was shown clearly in the Manchester City match. Quick off his line, making himself a big target, Mucha kept out James Milner and Pablo Zabaleta when many expected a goal. Easily beaten on several occasions this season, Howard is often slow off his line and easily rounded by opposing forwards.

Much like the criticism for his Chelsea error, Mucha deserves the praise currently being lavished on him and his performances warrant an extended run in the side. Needing to show faith in his backup keeper, it would be remiss of Moyes to restore Howard to the team at present. Unfortunately, and it is one of the main criticisms levelled at him throughout his tenure, Moyes has a tendency to entrust greater reliance on his favoured players.