Everton ambition lost amid search for stability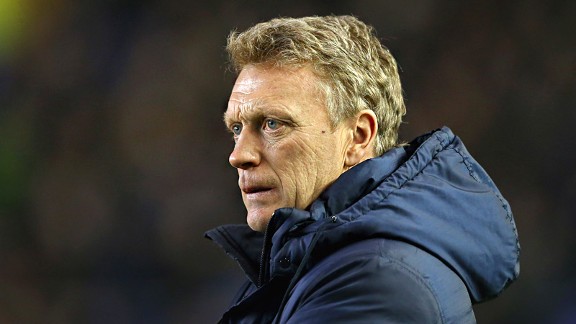 Alex Livesey/Getty ImagesDavid Moyes' post-match comments after the Wigan loss rankled Everton supporters.
Somewhere along the way, amid the desire for stability and security, ambition appears to have taken a backseat. Saturday's FA Cup quarterfinal provided a great opening as the club sought to end the silverware drought; a drought that will extend into a 19th season in August. Unfortunately, the dismal and lacklustre performance quickly doused any dreams of Wembley and silverware.

- Moyes: Contract saga not to blame

The performance against Wigan was alarming enough; the reaction permeating from Everton is of greater concern. Speaking afterwards, "It just wasn't to be our day" formed part of David Moyes' post-match interview. Many supporters wanted an apology for the insipid Wigan display. Instead, they received the somewhat predictable rhetoric about 'bouncing back' and 'still having things to play for'.

Furthermore, club captain Phil Neville spoke to Sky Sports News yesterday. Describing his own performance and the team performance, Neville labelled them as embarrassing and disastrous. He also acknowledged how the team deserves any criticism aimed their way.

Few fans would have reason to question those aspects of the interview; most would probably use choicer language. The part that rankled with fans was the section omitted from the various online publications. Discussing Moyes' tenure, Neville remarked, "Only twice in the last 11 years we've finished outside the top 10, that's a massive achievement for a club like Everton".

Supporters took this as a clear lack of ambition and from the club captain of all people -- the man who is effectively the manager's spokesman on the pitch and in the media. Few Evertonians will take kindly to the words 'Everton', 'Top 10' and 'massive achievement' finding their way into the same sentence. The Gwladys Street often sing the well-known song "If You Know Your History" and ambitious supporters are sure to contest the idea that a top half finish constitutes success.

Likewise, pockets of fans insist there is still something to play for this season. "We can still finish above Liverpool", they say. Around 20-30 years ago, that phrase meant winning the league and you could excuse using it. Now, it does not even guarantee European football and, while bragging rights are welcome, finishing above our local rivals does not equate to a successful season.

Hypothetically, imagine Liverpool finish 16th and Everton 15th; such a league placing would not warrant celebration or praise. Everton Football Club is all that matters and local rivals are not the yardstick for progress nor is any other team in this division.

Let us remember, while something of a sleeping giant in recent decades, due to poor leadership, questionable managerial choices and a failure to capitalise on 1980s success, Everton remain a massive club.

Established in 1878, the Toffees are one of the founding members of the Football League. Registering nine league titles, only Manchester United (19), Liverpool (18) and Arsenal (13) have more. Add five FA Cups and a European Cup-Winners' Cup into the equation and the result is the fourth most successful club in England.

Everton should not accept second best in any facet of the game. It is imperative that the club shake the patronising 'plucky little Everton' and 'punching above their weight' tags adopted within sections of the media. After all, these pioneers of the game have helped to shape the history of modern football.

A glance through a selection of firsts highlights the illustrious history of the club. First (and only) club to have a player score 60 league goals in a season, first to wear numbered shirts, first to 4000 top-flight games, first to 5000 league points, first to 100 top-flight seasons and first to host a World Cup semifinal in Britain. Those are just a selection, as the long list continues, there are plenty of impressive statistics to choose.

Dismal quarterfinal defeats should not receive blasé excuses and players should not define Top 10 finishes as an achievement; it is a bare minimum. Given the passionate support and the rich history of this club, it is vital that Everton do not welcome mediocrity or settle for it.