Statistics show Baines as Europe's most creative player
The creative players within a side are usually attacking ones. Looking at the top sides within the Premier League, the main creative threats are midfielders or forwards, as you would expect. That said, there is one obvious exception among the sides pushing for European places and that is Leighton Baines. While other sides rely on attacking players, the creative hub of this Everton side is their left back.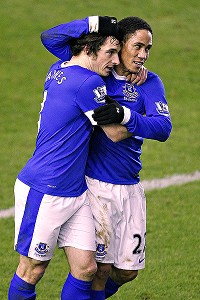 AP PhotoLeighton Baines, left, with help from Steven Pienaar, has been masterful in creating chances for the Toffees.
Since his 6-million-pound arrival from Wigan in 2007, Baines has started 175 league games, returning 32 assists and 16 goals. His overall Everton record stands at 214 starts, 36 assists and 22 goals; numbers that plenty of attack-minded players would be proud to call their own.

After his initial struggle to nail down a regular place, due to the form of Joleon Lescott and the David Moyes' tendency to ease new players into the team, Baines has gone from strength to strength. His attacking talents were common knowledge, with the left back displaying this same enterprising style at Wigan, but his defensive attributes have improved considerably. On current form, there are few left backs, if any, to challenge Baines as the best in Europe.

Leading the way in the Premier League, Baines has created 90 chances this season and heads a list comprising of the best attacking talent in the league. David Silva is his nearest challenger (80) with the Liverpool duo of Luis Suarez (78) and Steven Gerrard (74) sitting third and fourth, respectively.

The remainder of the creative top 10 boasts considerable talent. There is nothing to separate compatriots Juan Mata (68) and Santi Cazorla (68), QPR's Adel Taarabt (65) follows the Spanish pair and Baines' partner Steven Pienaar (62) sits eighth. The remainder of the creative top 10 are English players, Southampton's Rickie Lambert (59) is ninth with Tottenham's Aaron Lennon (58) in tenth.

Not content with overshadowing the Premier League's best, Baines also leads the way in Europe. Across the main leagues in Europe – Bundesliga, La Liga, Ligue 1, Premier League and Serie A – 2,606 players have featured this season, all making at least one appearance. However, not one can better Baines' return of 90 chances created (statistics from viewfromtheroyalbluemersey.files.wordpress.com):




The closest player remains Silva (80), with the Spaniard joined by Marseille's Mathieu Valbuena (80). Andrea Pirlo (75) is sandwiched in fifth place between the aforementioned Liverpool duo of Suarez (78) and Gerrard (74). Seventh place is a tie on the European list with Napoli's Marek Hamsik and Roma's Francesco Totti both creating 71 chances this season.

After undergoing something of a rejuvenation following his departure from Werder Bremen in 2009, Freiburg's Max Kruse (70) finds himself as the ninth-most creative player in Europe. Rounding off the list is veteran Spanish winger Joaquin, the Malaga man creating 68 chances.

Statistically, the Everton left back is the most creative player in Europe and it is to his credit that his defensive performances remain at such a high level; Baines has won 81 percent of his tackles this season and continues to excel defensively.

At his marauding best with Pienaar ahead of him, their left-sided partnership is the strongest in the Premier League. Such is their threat that when Everton played Swansea recently, the Welsh side lined up with two right backs to combat the pair. This season alone, the Baines-Pienaar combination accounts for 152 of Everton's 358 chances -- that is 42 percent of Everton's total chances.

Regularly excelling at both ends of the pitch, Baines is indispensable to Everton and their style of play. Though it is long overdue, the left back is finally getting the recognition for his performances for both club and country.