Stale, panicky Everton need to freshen up ways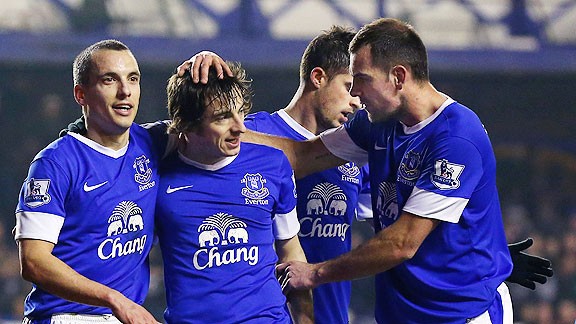 Alex Livesey/Getty ImagesLeighton Baines, second from left, accepts congratulations after scoring Everton's second goal on a penalty kick.
Choruses of "We're on the march with Moyes' army; We're all going to Wembley" echoed around Goodison Park Tuesday. However, based on the fifth-round replay, it is more of a leisurely stroll than a march. Failing to assert their superiority for long enough, Everton ensured Oldham were always in with a chance, albeit a puncher's one, as the Toffees won 3-1 to advance.

-- Toffees end Oldham's Cup run

Although unable to reach top gear, Everton did just enough to warrant their victory while Oldham deserved the consolation after their second-half endeavours. On reflection, the scoreline appeared fair and the reward for Everton is home advantage against Wigan in the quarterfinals.

Once again, underlining his desire to mark his Everton tenure with a trophy, David Moyes opted for a strong side. Kevin Mirallas and Phil Neville returned to the starting XI, the disappointing Steven Naismith and the injured Marouane Fellaini were the ones to miss out; Fellaini should be fit for Reading on Saturday with his omission more cautious than serious.

Speaking earlier in the week, Moyes highlighted the importance of upcoming matches. Progression here ensures the rescheduling of the upcoming Arsenal trip and leaves a string of home games. After hosting Reading and Wigan, Everton needing to capitalise on home advantage against Manchester City and Stoke, as they strive to breathe fresh life into the season.

Moving back to Tuesday -- there was at least one highlight despite the patchy team performance and it was the right-hand side. Playing host to Kevin Mirallas and Seamus Coleman, arguably the fastest attacking players in the squad, this rapid duo provide another line of attack. Reliant on the dynamic but overworked left side, this burgeoning partnership provides opposing sides with additional problems to tackle.

Elsewhere, set pieces remain a major concern. This time, it was the otherwise consistent Sylvain Distin at fault, the centre back lost his head and his man, as Matt Smith evaded the slack marking with ease. Overcrowded, with every outfield player back helping out, the Everton penalty area is akin to a disaster zone of late; full of disoriented, confused people looking to others for help.

Following the Oldham goal, the home response also caused concern. Much higher on the ladder, Everton needed to settle down and regain their composure. In each of their recent fixtures, the concession of goals has seen Moyes' men lose their nerve. Aiming for a European place, more measured and mature performances are required in the weeks ahead.

Unfortunately -- and it probably stemmed from the inconsistent team performance -- Moyes made no changes until after the 80-minute mark. Looking tired in recent weeks, certain players appear on the brink of exhaustion and Everton could have done with resting some senior players.

There were players on the bench, experienced and inexperienced, who want and need playing time. As the season progresses, these players are going to be used. Rather than throw them in at the Premier League deep end, this was the perfect chance to provide game time.

Far more trust is required within the squad, as the overused favoured players are beginning to hit their physical buffers.

It is a relatively minor complaint in the grand scheme of things -- progress was always the most important aspect -- but the overly cautious nature of the manager prevented some weary legs from a much-needed break. In addition, saved only by the relatively brief injury time, Everton would have introduced young centre back Shane Duffy into the action -- this tactic has to stop.

First, for a side with lofty ambitions, it smacks of desperation. Oldham possess a strong aerial threat, but Everton should have learnt their lesson from the Boundary Park fixture; introducing an extra defender invites pressure and creates panic.

This was also evident at Fulham earlier in the season. Having dominated the match, Everton found themselves 2-1 ahead. However, in the 89th minute, the Blues introduced Distin and switched to a back five and it backfired. Unsure of their roles and responsibilities, the panic within the Everton defence lifted Fulham and, sensing blood, Steve Sidwell snatched a late equaliser.

Rather than invite needless pressure with caution and containment, the players and manager need to have stronger belief in their own ability with greater leadership required. Pushing for a European place and FA Cup success, Everton should be able to see out matches with a calmness and assurance befitting their league position.