Fair pricing, but uncertainty threatens Everton season tickets in 2013-14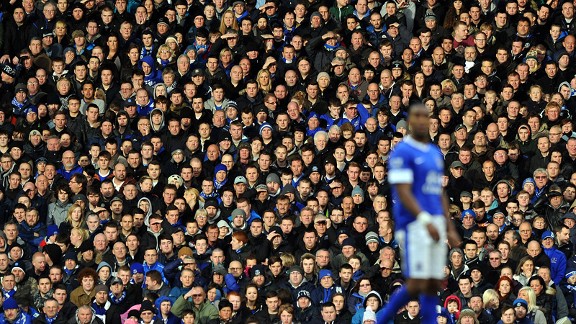 Paul Ellis/AFP/Getty ImagesWill all of these Everton supporters be back in these seats next season?
It is that time of year again. Supporters wait with baited breath as clubs begin to announce season ticket prices for 2013-14. For the supporters, savings checked, options weighed up; season ticket renewal can provide dread and excitement or, if you are unfortunate enough, a mixture of both.

As the season ends, the current state of the playing squad is often a strong factor in any season ticket decision. The players can do their part; a strong finish is sure to lift hope and expectation among the fans with the season approaching the closing stretch.

On one hand, finishing well, pushing for trophies and chasing European football are just three of the primary factors liable to persuade a ticket renewal. At the other end of the scale, relegation battles, stagnation or potential uncertainty over managers and players are sure to affect any supporter's decision.

Whether it is the performance of the team, the price of the tickets or another mitigating factor, emotions tend to run high around this time of year. A big expense for any football fan, plenty of thought goes into making a season ticket decision, regardless of whether it is renewal or decline, buy or leave.

Earlier today, Everton announced their season ticket prices for 2013-14. Given some of the astronomical prices within the modern game, the Everton prices represent fair value with the club fighting at the right end of the table. After the success of the scheme, junior season tickets are frozen. Fans aged 10 and under can watch Everton for 95 pounds (five pounds per game), while 11-16 year-olds also benefit from the static prices.

Concessions (16-20 or Over 65) face slight Early Bird increases. Each stand is up by 14.62 pounds or 14.63 pounds with the family enclosure rising by 16.82 pounds. Outside of the Early Bird window, the increases grow, with fans benefiting from buying as early as possible. Taking advantage of the Early Bird option will save fans around 25% in comparison to individual match tickets.

Adults renewing early will see a small increase of 1.03 per Premier League game, on average. This season, Everton's season ticket sale rose by 6.35% and home attendances are up 10.64% to this point; both statistics highlight the fantastic support of the Goodison faithful in spite of the current economic climate.

In terms of value, savings on offer and payment plans, an Everton season ticket will remain an attractive option for thousands of supporters. However, for those basing their decision on playing matters, next year's season ticket decision is an extremely tough one.

Everton fans provide the biggest proportion of match-day revenue at Goodison. While the fans continue to pump their hard-earned cash into the Everton coffers, some are sure to have their doubts this time around. Aside from the constants -- retail, merchandise and TV money -- the supporters are the only ones investing in the football club.

Pockets of fans are unhappy about the perceived lack of ambition or progress from the club hierarchy in recent weeks, while some would say it stretches to months and others years. Ultimately, this may prove one season too many for certain disgruntled supporters.

Another potential problem is the uncertainty over David Moyes' future. It appears slightly remiss to expect fans to commit to ticket renewal, while the manager dallies over his own renewal. One alternative is waiting, in the hope that Moyes commits to the club, but the hitch is the passing of the Early Bird window.

Any renewal from Moyes would arrive after the April 19th deadline, leaving adult fans with increases from 42-96.63 pounds. In spite of the astute pricing and considerate options on offer, clear signs of progress and ambition look set to play a big role when those renewal reaches Evertonian letterboxes in the coming weeks.

Finally, while the new prices are fair, it is worth remembering the substantial TV deal arriving next season. Domestic television revenue will increase by a staggering 1.266 billion to 3.018 billion pounds from 2013-14 to 2015-16.

Using last season's aggregate Premier League attendance -- 13,148,465 -- as a starting point, the Football Supporters Federation worked out how clubs could afford to significantly reduce prices. They multiplied the attendance figure by three, this being the number of seasons in which the new TV deal exists, and that gives an overall of attendance of 39,445,395.

Divide the estimated three-year attendance figure by the 1.266 billion increase and you get 32.10 pounds. Therefore, the FSF estimates that clubs could afford to cut ticket prices by as much 32 pounds per game. So, while the prices are fair, there is certainly a case for frozen prices, even decreases, in light of the bigger picture.