Upcoming fixtures make or break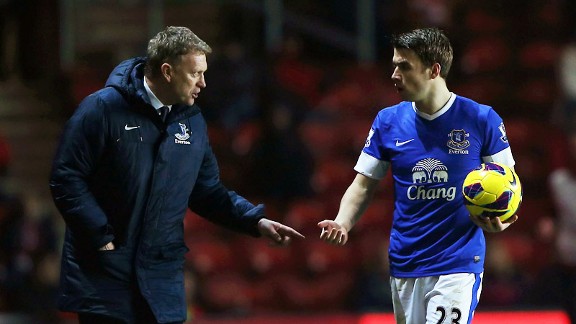 Ian Walton/Getty ImagesWhen an Everton player such as Seamus Coleman goes near the bench, it's usually just to talk to manager David Moyes, who doesn't have enough depth to make many substitutions.
Everton head into their 400th Premier League away game Saturday at Norwich looking to restart their European push. Trying to strengthen their hold over the Canaries, Everton are chasing a 10th match without defeat against their hosts. At first glance, it looks ominous, with Norwich's winless Everton run dating to March 1994, but things have turned around in recent meetings.

Against a side able to beat the best on home turf, the Toffees need to improve on recent performances. In the last three league meetings, these sides have shared the spoils after Norwich successfully ruffled Everton feathers. Both sides have drawn a high percentage of matches this season, but both seek wins for varying reasons -- Everton for Europe, Norwich to erase lingering relegation fears.

Bidding to kick-start their season, David Moyes' men have to eradicate their propensity for conceding early goals. No side has conceded more in the opening 15 minutes of matches (10) this season – this equates to 31 percent of Everton's total conceded. Combined with the inability to keep clean sheets, Everton must wipe out these defensive woes, otherwise European football shall slip away.

Heading into a potentially favourable run of fixtures, a strong showing is imperative at Norwich. After Saturday, Everton face an FA Cup replay against Oldham. Should Everton overcome Oldham, the fixture list provides five successive home matches. FA Cup progression would see the Arsenal away trip moved, with the upcoming fixtures - Oldham, Reading, Wigan (FA Cup), Manchester City and Stoke – all at Goodison Park.

Stuttering of late, it is paramount that the Blues make the most of this home advantage to spark their season into action. Unfortunately, after the lack of January transfer activity, Everton need to find inspiration from within, as the lack of numbers is beginning to catch up with the side.

One particular concern is goals. Earlier in the season, Everton threatened constantly in matches. At present, the current threat is more sporadic and weary legs are showing. After scoring in 18 consecutive games, Everton have failed to score in three of their last five league games. One thing is certain, the return to form of Nikica Jelavic would provide a welcome boost.

The statistics highlight the unfortunate lack of depth within the squad. This season, plagued by a lack of numbers, Moyes has made fewer substitutions than any other top-flight manager (62). Often criticised for 'dithering' with substitutions, the criticism would appear valid on face value. The counterargument is he lacks the necessary resources to influence matches.

Regardless of substitutions, having to place continued faith in the same group is weighing the team down. Everton have used fewer players than any other side (22) and it shows, with plenty of leggy performance evident against Manchester United and Oldham.

The upcoming home fixtures have the potential to define Everton's season. Good results could be the difference between a Champions League place, and potential FA Cup success, or an FA Cup exit and a near-miss on the European front. Now is the time for manager and players to squeeze out every ounce of perspiration as the season enter the final stretch.